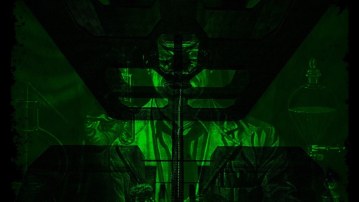 Dr. Malroy's Laboratory
You are downloading as a guest.
The extended gallery contains images from all community members.
They found the survivors of Dr. Malroy's experiments in the labs beneath Lakeside shooting range, but they found much more than that inside those labs. A note pad on a blood stained table also revealed the hidden location of Dr. Malroy's main lab. After re-grouping and guiding the experiment survivors to safety on the Midnight Rider's tour bus, the group has now made their way to this hidden lab. And the objective is clear.



Find Dr. Malroy and put an end to his cruel experiments.


Modes: Coop, versus, survival

INFO:
- L4D1 survivors
- Two exit scenes
- Two environments in E6M6
- Two tank variants

NOTE: This is a beta campaign that was developed in 5 weeks. All feedback is appreciated and will be considered in future updates.
Coop, Versus, Survival
L4D1 Survivors
Two Exit Scenes
Two Environments in E6M6
Two Tank Variants
06/26/21
========

E6M2 - new areas added

E6M3 - cosmetic updates

Another scary themed campaign for collection

I tested twice & kind of enjoyed this campaign. Though the campaign is dark like Silent Hill or Resident Evil, this one is still playable & enjoyable. The plot is similar to "Hard Rain", as survivors need to get into lab & then go back outside. So far, most things are good. The bot navigation is fine. The hints & the glows on objects are also clear. Supplies are also enough, especially on areas where there's a tank challenge. The tank has reduced health so it's still beatable. Probably only map 1 has a bug. Somehow, in the beginning of map 1, one survivor always spawns at a very far location while the other 3 are in a room with supplies. Luckily on my tests twice, it wasn't me who spawned at a very far place.
.
Well, as this is still a beta version, I look forward to the next updates. I'll update the review later when more new things come on the next updates. Probably, adding more key finding events or puzzles like the previous campaigns "Unholy Ground", "Beyond Dead", Forgotten Place" etc would be good too.

This review was posted before the latest release.

I don't know if you played Redemption map, but you could make this Dr. Malfoy to be able to interact/talk with you when you press E or you could make interact with you without pressing anything.

This comment was posted before the latest release.

Interactions with some objects like machines are also good. If you want to keep this as the standard campaign, the simple mechanisms like turning on generators, operating some switches or computer to open doors, destroying blockades to open paths etc would be good.
.
Btw I don't know if survivors can meet Dr. Malfoy or not. Is it possible? Or maybe he's a hidden boss? In my tests twice, I didn't find anything about Dr. Malfoy except some words about him.

This comment was posted before the latest release.

This one is suppose to be more like a standard campaign so it's not going to have missions like the other campaigns. I actually started this using missions, you had to resurrect Bill in the first map and have him open the doors the computer opens now. I'll probably add more stuff to interact with after I get more feedback, stuff like buttons that turn on machines and stuff. I haven't thought about that stuff much yet though so I'm open to ideas.

This comment was posted before the latest release.
File Details
View Changelog
Version 4.0 Beta