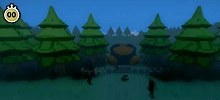 Panic in Pallet Town
You are downloading as a guest.
The extended gallery contains images from all community members.
I've had this idea since L4D1, but only got around to it recently since I decided to have a go at Authoring Tools. First time working with Nav Meshes and this will be my first publicly released map.

PLEASE READ THE CHANGELOG FOR MORE INFO. Now includes Music!
Pros:

✰:Detailed! (+3.5)
✰:Easy to kite the zombies for a while (+1.0)
✰:Pretty difficult (Preference +0.0)
✰:Custom tank music (+1.5)

Cons:

✰:Square (the game was square so -0.0)
✰:Poor placement/few areas of weapons (in the center and near the lake where instant K.O. can happen; -1.0)
✰:No choke-points (-1.0)
✰:Very open to the special infected (-1.0)
✰:Water is instant K.O. (-1.0)
✰:Too bad there wasn't always custom music... (-0.0)


Conclusion:

All-in-all, very good recreation of the Pokemon world. A must download for the age-old fans of the series (fan since yellow!) The custom music was a nice touch. I always prefer tough maps, so it's very fun for me in my opinion.

... Now onto the cons...

So, I would have to say that I can see the effort put into the map, but I would have liked to see MORE effort... just, or more planning. If after a certain amount of time the Lapris that you can see in the distance came over and picked your team up and took you over to a new area, that would be awesome! Also, because there were no choke points and the map was so open, it was easy for my team to be easily caught all at the same time by special infected (which ended our runs all to far often.) Now, I am not a bad player, but even this map is almost impossible to survive for ever because of the special infected's advantage over the survivors. Because of the roofs, and all the destroyable walls, it is very easy to get majorly ambushed.

If the author could try and add the chance of another area through Lapris after a certain amount of time, like what happens in Helm's Deep with those timed events, that would instantly make this map amazing. And add this map to one of my top 5, and would be amazing, no matter the cons, it would become an instant 10.
File Details
panicinpallet_1_5...
(30.1 MB)
View Changelog
Version 1.5 Complete