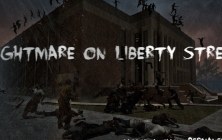 Nightmare on Liberty Street
You are downloading as a guest.
The extended gallery contains images from all community members.
Survivors must travel through the Bloomfield College Campus and make their way to the Science Building where they can radio for rescue.
Too short although it has potentials to be better

When playing this map, I felt like only playing 2 maps. Map 1 are too short, with a "Tank surprise". At certain location, bots got stuck so they couldn't follow me & got left behind really far until they got teleported near me. The finale has endless panic event even from the beginning, along with the special infected. I got confused for awhile on the finale because the radio was hidden somewhere & there's no voice coming from the radio. While the endless horde + SI kept coming, I tried to climb the ladder but the radio wasn't there. After going down & looking more thoroughly, I found the radio. Then, the finale was too easy. I was waiting for a tank to come before the rescue team arrived, but no tank came until I left with the rescue team.
.
Looking at the maps & the areas, I think this campaign still has potentials to improve better. But well, because it looks like this is an old map & the uploader seems not active for a long time, there's nothing to do. All I can say is this is an average campaign - playable but too short to enjoy & there are still many things to do to this campaign to make it better. At least, good work in making the campaign worked & playable to the finale :) .

@EshmawyMan:
Actually map 2 of this campaign has a serious bot navigation problem like I mentioned on the review. Bots can't follow players after climbing a ladder in the beginning of map 2. On the finale, actually you can use the cars to avoid water. I jumped from one car to another because it would be bad if there's a special infected when walking in the water. & probably the author wouldn't come back, as the last update of this campaign was in 2011. But it's still possible to fix if there are other map makers willing to take over this campaign.

Hey i just played this map and i cursed a lot because it was SP & Expert XD No way to do it with Expert SP mode... I am writing a review soon just in case the author comes on. I replied to you on " White Forest " Campaign post...
File Details
View Changelog
Version 1.0 Beta