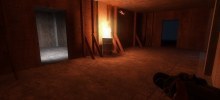 The Road Betaa
You are downloading as a guest.
The extended gallery contains images from all community members.
This is my first campaign, The compaign have four maps. Versus mode is failed on my map :( I will fix it.
Good Job As First Map For You

Managed to 99% beat that campaign in like 2-3 hours on Expert Mode with Bots and the last level was so bad and long. The bad thing about it is the literal showing up zombies and tank on the way to safe room from nowhere which is so bad and annoying especially in that part of park on our run in the 3rd level which is the final level here because the whole campaign is not complete sadly. 

You should give us a guide to run to safe room or to turn of the alarm or where to go or any mark for the final area to resort to because i kept dying searching for where to go and i got closer to the room which was on my right and the ambulance was right in front of the building and because i didn't know where to go, i went left instead of right as i was alone and followed by hordes of zombies and tank. Stood in the corner shot some with that M60 gun and jockey got me. Next time  i played it i made it to Normal and it was like it was the same high difficulty because Bots are noobs and i was trying to take them with me to see where to go then i can kill myself to try again on Expert mode as a challenge, but to search for where to go while i can take bots with me and i can't die easily. Maybe if i had friends to play with me that map, i would be able to make my run thanks to those pipe or bile bombs as each one of us would carry a bomb unlike when i am alone doing all work and carrying only one bile bomb. 

The way from that gate i opened to the safe room was really really long and bad with no guide at all. From water in sewers up to stairs while zombies get to us from everywhere right left behind and in front and from above, then moving to those tents with health kits and inside that park that shows no way to go through and much green areas where we can find any zombies showing up from behind, then to find the magical tank that just shows up in front of you like a magician used his wand and then Tank popped up, then to streets while tank and zombies are chasing you to run along like two streets to safe room.... This is insane and No guide? And Jimmy Juniors zombies who needed tens of bullets or a melee weapon to be brought down along with zombies. Insane Insane Insane. 

So i am glad i could get to in front of safe room building on Expert Mode with Bots. Consider those mistakes while creating your future campaigns and also leave a tiny note if certain campaigns on high difficulties are not for SP Mode and needs Real players  in case you love to make more..
File Details
the_road_beta2.vpk
(67.7 MB)
View Changelog
Version 2 Beta