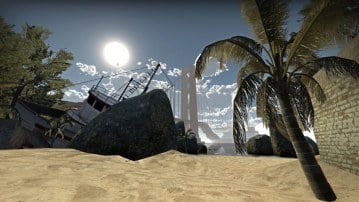 Day Break
You are downloading as a guest.
The extended gallery contains images from all community members.
It's been a long road since I started this project shortly before Left 4 Dead 2 came out, but I'm happy to share with you my custom campaign: Day Break!



The survivors must escape San Francisco before the military bombs it! After their helicopter crashes on the roof of Day Break Inn & Suites, the survivors must make their way out of the city, across the Golden Gate bridge, and hopping on a boat to Alcatraz for rescue.

This is a five map campaign, designed and play-tested for co-op, versus, survival, and scavenge gamemodes, and with a scavenge-style finale with a few added quirks. NOTE: Turn on instructor hints, as they will help you with some of the unfamiliar aspects for some of the events.

The survivors pass by many real-world places and landmarks on their way. While I have tried to be as true to the real San Francisco as possible, I have had to take some liberties with the area to make it suitable for Left 4 Dead 2 co-op and versus gameplay. That being said, I have tried to be as detailed and accurate as possible when it comes to landmarks (which include The Palace Of Fine Arts, Fort Point, The Golden Gate Bridge, the Lime Point Lighthouse, and Alcatraz Island) using all the resources available to me.

Version 4 is now released, bringing new content from the Last Stand Content and many changes based on your feedback over the years!

Credits:
Although this is primarily a solo project (and my hobby since I started working on it around 2009), I want to thank everyone who was supportive of the project from its very beginning and offered their advice and time to help the campaign along and QA test, as well as the people who contributed a few custom assets to the project. There are too many people to list here, but I've included at the bottom of this description a short list of credits for any custom-made models & textures that I did not make myself. For the rest, thank you so much! You know who you are :)

Custom Assets contributed by:
thenone - Patio Lounge Chair
locololo2 - GMC CCKW Army Truck
jaek - XBOX 360 Elite w/ Red Ring
jayvernon - Generic Game Controller
Kamaokc - "Sky28" Skybox texture used on map 2
Frils - Samsung TV model
TommyTheCat - Fire Truck
Master Chris & Fueled Mod Vehicle Team - Mustang Shelby GT500, & Lamborghini Miura SV
EvilMr.Lee - Mustang
Athos - Corvette C6 & Golf GTI
Peterboi - Supra, Camaro, Carrera GT, Mazda Rx-8
Randy - School Bus skin & post-apocalyptic style school bus model
Rush_Freak - Various Car Props (Ford Aspire, Pontiac Sunfire, Nissan Maxima, Toyota Camry, Ford Explorer, GMC Sierra, Plymouth Grand Voyager, Ford Escort).
Wolphin/Daroot Leafstorm/NF - Boss spawner script based on their "Competitive Boss Spawner System" vscript.
R*ctus - Easter Egg Asset & Scripting assistance
RafaelDeJongh & Company - Easter Egg Asset
5 Map Campaign
Co-op, Versus, Survival + Scavenge
High Detail Real-World Landmarks
Palace of Fine Arts, Golden Gate Bridge
Lime Point Lighthouse, Alcatraz Island
05/26/21
========

V4 Hotfix to remove "Beta" from title

05/26/21

THE MOST AESTHETIC MAP I'VE EVER PLAYED!!!

WOW! This map is so good! I really love the scripted survivor dialogue, and the nick's "Ugh not again" is so in character and probably the best part of the map! And also the bridge chapter is so kinda aesthetic to me it really gave me  
"Wait i've been here before/I've been here in my dream before..." Vibes! 11/10 Probably the most aesthetic, chaotic, and longest map i've ever play in Left 4 dead 2!
File Details
daybreak_v4.zip
(372.6 MB)
View Changelog
Version 4.0 Complete