Reviews for Heaven Can Wait II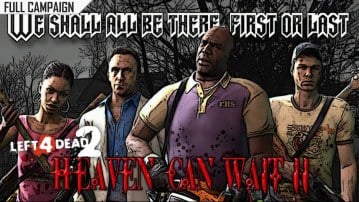 Review

Honestly, a pretty nicely balanced campaign, provides a good challenge without being too frustrating, some decent map design, although maybe the hordes are a bit too spammy for my liking, not overdone by any means, but maybe a bit much. Navmesh is only a little mark off perfect with some very unremarkable issues. A pretty fun long campaign with an extended finale (more hordes) plenty of supplies to deal with the many hordes throughout the campaign, all around just a really good campaign, give it a try!

This review was posted before the latest release.

GREAT

PROS
>Almost a Valve tier campaign
>Never encounter any bugs and glitches
>Bots can pickup items
>Good map details

CONS
>Those unusual looking giant double doors on chapter 4
>Need some map details on chapter 5

This review was posted before the latest release.

It's a good one, but with a number of annoying events

This build quality is outstanding, and the maps have a nice flow, and good balance of supplies. Some panic events, however, seem to come out of nowhere, and the first aid trap was an example of "trial and error" gameplay as nothing whatsoever foreshadowed it. The finale is also kinda "meh"; it's a large rainy map with explosive barrels and machine guns, but none appear near the bunker.

This review was posted before the latest release.

Very Well Done

PROS
Incredible design
Events well placed
Challenging

CONS
In the parking garage event, bots got confused and I had to leave them.
The way isn't always clearly marked.
Health not at beginning, then springs an event on you when you find them at the broken bridge.

CONCLUSION
Really fun to play, but in every map the path will become unclear at some point. However, the biggest issue is during the parking garage- bots decide to not follow you when you drop through the hole, but they did eventually find their way to me by the gas station. But since they play fantastically otherwise (finding ammo, health, etc.) it's not too hard to deal with.

Review Updated: 3/2016 Version 14

This review was posted before the latest release.

Pros:

+ Nice layout idea and structure

Cons:

- Missing textures in many areas: ground, walls, doors
- Bots get stucked and can't reach pills or medkits too
- No melee along the entire campaing, not even a magnum
- Infected spawning in the middle of nowhere
- Lack of good weapons and too much medkits

Conclusion:

Nice visuals but, at least for me, playing with pistols... without melee (nor even a tonfa) and that shit of missing textures... were enough. 

This review was posted before the latest release.

Pros:

Layout was fun
the events that happened were a nice touch to atmostphere

Cons:

The excessive amount of special that appeared.... at any time I had 5+ special Infected like going inside the house atleast 4+ hunters would appear instantly at the same time and hit every member of the survivors and you would die.
Also, there were 2 witches every 20-30 feet

Cut back on the Specials, its annoyting with almost no ammo and items to fight back with, goes beyond challenging...

Conclusion:

Would be more enjoyable with just cutting back on the Special Infected, they seem to be almost as common as well....the common infected... like seriously, you would get a Special with every 6 common infected and I don't have any mods that edit that.

This review was posted before the latest release.

It is using native AI director to spawn special infected. Maybe you are confusing with L4D2 hard version.

This comment was posted before the latest release.

Pros:

- Awesome poster
- Dialogue in the beginning
- Detailed
- Decent bot navigation
- Events are perfectly placed
- Plenty of places to explore


Cons:

- Not unique, doesn't stand out 
- Confusing layout on most levels
- Finale is lacking many supplies such as medkits
- Need more guiding arrows on maps 3 and 4

Conclusion:

Decent campaign with potential but it's lacking directions

This review was posted before the latest release.

Pros:

======= In general =======
+ Very good AI navigation.
+ Interesting ideas.
+ L4D2 version.
+ Survivor dialogue at the beginning.
+ Stormy weather chosen as the finale's setting.
+ Great map layout.
+ Challenging through and through.
+ Enough Tanks.
+ Good atmosphere.

Cons:

======= Map 1 =======
- Some Specials were spawning behind fences next to the highway.
===================

======= Map 2 =======
- Glicthy ladder for AI mates.
===================

======= Map 3 =======
- Garage contained far too many car alarms.
===================

======= Map 4 =======
- Finding one's way can be very confusing.
- Only found one or two medkits.
===================

======= Map 5 =======
- Not enough supplies.
- Sometimes AI navigation seems to be bad.
- Very difficult without enough supplies.
===================

Conclusion:

Nice campaign, but there are still things than need to be, and can be fixed. As the Pros say, good NAVs, concepts and layout. Good one!

This review was posted before the latest release.

Pros:

-Very well meshed out. Quite a few custom assets. We thought we heard some custom music also, though we weren't sure during the sfx of rain.

-Variety of maps, and none felt too derivative of other maps.

-Fairly long campaign, took us a while to complete. Always great to have a lot of content. 

-Use of Hard Rain in finale level very cool.

-Interesting use of breakable objects and puzzle elements throughout. "Oh, that's cool" was often heard.

Cons:

-My team didn't like the maze feel, especially during the "too much noise!" crescendo event. Got lost way too much, and not many distinctive landmarks to navigate.

-Didn't understand what we were supposed to do during the finale. Died once by exiting the hole in the concrete and getting lost. May want to have the second door lowering when the first is almost completely down, so players know they're supposed to keep waiting for doors. 

Conclusion:

My team ended up getting more frustrated than anything while playing this one. We will probably enjoy it more now that we've completed it once.

This review was posted before the latest release.

Pros:

Like everyone else is saying, very nice flow to the maps. I play this one as much as I have the campaigns from the original game.

There is an equal variety of urban, suburban, and rural settings and the are all done well.

It didn't bother me when I got lost on these maps. I spent 20 years playing linear mapped games, so some maze-type element is always welcome. It's more thrilling and realistic.

Another plus for me on this is that there is usually a reward for going off the beaten path.

The settings lend themselves nicely to the events.

Cons:

I've never finished it. The finale always lags out on me for some reason when all of the tanks show up and I have to quit...every time...right at the absolute very end. 

Apparently this is not a common problem.

Conclusion:

The best user created campaign and I've pretty much played all of them on this site. I've fired this one up nearly as many times as I have "Dead Center" 

The only reason I rated this less than 100% is because I never have finished it.

Heaven Can Wait inspired me to actually register for this site and finally rate it. Thanks guys.

This review was posted before the latest release.

Pros:

I really love the Flow of the Maps 

I agree with the others..the court and funeral were great 
 
The train was a nice touch to the map.

TV playing was cool touch. 




Cons:

The hordes in the garage. 


Conclusion:

Conclusion:
This is an awesome campaign to play. challenging enough to you trying but not so hard that you shut it down

This review was posted before the latest release.

This review has been hidden because the user has been banned or restricted.

This review was posted before the latest release.

Pros:

Plenty challenging.
Good flow through maps. 

Cons:

None

Conclusion:

Another fabulous custom map! My crew plays this a ton and we always enjoy it. 

This review was posted before the latest release.

Pros:

Great level design. The first level is particularly spooky, especially that house with a creepy version of 'Unchained Melody"

Good flow.
Great Starting Area.

A Motel, sewer, river, and a funeral parlor in one map?! Sweet!

Loved the train part.

The car alarm rush was also a rush.

Cons:

Finale could have been a little better. But just a small nitpick.

Conclusion:

Excellent. This should be downloaded by any serious or even casual L4D fan. Even more fun if you use a custom mod to mix and match your favorite L4D1 and L4D2 survivors!  Coach, Zoey, Ellis, and Louis for me. :)

This review was posted before the latest release.

Pros:

fun
has a lot of weapon and throwable around
multiple route to go (could be a con for some people)
level of details


Cons:

might get lost or go around in a circle
some maps like the final battle has this *spoiler* huge military field and it is just you walking across this big empty place with little zombie and all you need to do is stay near this one building for battle

Conclusion:

on the final map, it would be better if you have to run to one side to activate the final battle then run back to the other side to catch a ride or something. otherwise, this map is average. it has some nice features here and there, but it does not deserve a 1 or 95. 

This review was posted before the latest release.

Pros:

-Very Divers Beautiful levels
from a very dark and very Scary Creepy forest(intense)
to  bright light apartment and offices
-Sometimes I got lost but mostly after not more then three tries I find the right way, So that's a Big Pro, because Nobody finds their way at once if you have never been somewhere.
-Just Enough Guns and even found the BIG M60

Cons:

I don't like Unlimited respawning to much and for example: 
Although Going thought the Carpark is really intense the Unlimited numbers of respawning Zombies and Bots that intend to Shoot EVERY car alarm is too much in my opinion 
In the first map where the bridge blows up I fel from that bridge and I was hanging doen screaming for help, but the BOTS just stood there with full helth and everything but they just let me  hang until I fell to my death

Conclusion:

-EPIC
-Made  by a true Master of modding, although the respawning zombies must be taken down a notch (according to my taste)

This review was posted before the latest release.

Pros:

*Tons of zombies
*Perfect level design
*Epic starting point
*Nice military map

Cons:

*Obsessive special infected
*Too many witches and chargers
*Hordes last a long time

Conclusion:

Epic mod.It has some flaws but it's fine.

This review was posted before the latest release.
End of results.