Reviews for 2 evil eyes l4d2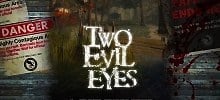 Nice

Overall it's not too bad. I actually didn't feel upset or bored playing it (and that's why I gave it 4 stars). I used 1 hour and 55 minutes to beat it on advanced with 3 strangers. But, as other reviews have pointed out, this campaigns have a number of issues.
-Little custom content and unpleasant detail, much worse than Cold Stream. (however it's still not terrible if u don't review it carfully)
-Meaningless events and props. For example, the rowing event is, unbelievably, very short. It made me think about whether the author is deliberate to make this campaign disappointing.
-Bugs are easy to find. For example, on Map 2, the tank after the alarm event may get stuck in... the ground?
-The pace is awful. This campaign is tooooo fast-paced. I couldn't try to review it in real time.
-Hordes, hordes, hordes, hordes, hordes, and, oh, tanks. I don't mean this campaign is hard, but you have to think of the fast pace.
I only showed some issues, but I don't mean this campaign is bad. Actually, it's still better than many other custom campaigns.
It's like fast food, delicious but not pretty.

I'm inclined to believe that the guy who made this map payed to his friends to give him positive reviews here

This is Cold Stream, but at least 100x worse, holy crap how bad can a map be? let me tell you about the issues  that bug me the most
>terrible environment
>awful crescendo events
>bad pacing
>really "cheap" difficulty spike (I'm sure the people who played enough campaigns will understand what I mean (or the people with a shred of critical thinking))
>level designs are incredibly lazy and borderline stupid
This is one of if not the worst custom campaign I've ever played and seeing the score this high for this pile of crap made me lose a bit more hope in this community. I would've gave it less than 1 if I could.

Review

Perfect campaign. Apart from grammar, honestly a Valve quality campaign, I'm bold to say. Really nice thematic, amazing level design, just a lot of fun, lengthy ole campaign. Also appreciate the use of the unused No Mercy pilot lines :)

I am glad that some people like it - I am just not one of them

So it is cool that someone spent time and dedication making this - I am sure that it was a big part of building the author's skills so they could make the competent campaign Cold Stream.  If only for that sake, this was certainly worth the effort.  On its own, however, I don't find it to be very playable.  It is much lower quality in all aspects from their later work.  So thanks for putting in the talent and hours, because I have played Cold Stream several times and enjoyed it.  But this is one that I played and quickly deleted.

Good.

- A very good job.
- He missed items in a few moments but nothing that the pistols did not solve.
- Congratulations and thank you.

This Map Is a Death Trapped !

Pros:
+ Finished Map
+ Train Panic Event
_________________________________
Cons:
- Hordes spawn on Saferoom !
- Boring Bridge, Swamp, & Woods that already use on official map
_________________________________
Don't Play with Bots if you don't want to torture yourself !

happy you're still having fun on this!!

Pros:

Great design
Gameplay is fantastic
Lots of surprise events
Supplies at the end of hard events
You can activate the boat without bots having to jump on it.
Finale is fun.

Cons:

Huge hordes would spawn inside saferooms during "run to the saferoom" events.
Constant heavy rain in Map 5. As soon as one storm ends, another begins.

Conclusion:

Fun and hard campaign. Unlike many other campaigns, this one doesn't fudge the difficulty by dragging on maps forever while being stingy with supplies. Its difficulty is in the events, many of which catch you off guard and with no corner to back into. It made me so happy at the boat event when it looked like the bots wouldn't get inside that activating it forces them in. It's unfortunate how common it is to find campaigns where the author has not bothered to check whether or not the bots will function, especially in unique events like that. Thank you to the author for giving a shit about single players.

Pros:

- Decent, enjoyable campaign.
- Some cool in-game features (boat ride, destructive environment)

Cons:

- Bots knocked clear out of map by charger
- First couple of levels too easy
- Final couple of levels too hard
- 5 tanks in the finale... seriously?

Conclusion:

For the most part I enjoyed this campaign. Starts off really easy with a nice couple of warm up levels. The middle couple of levels were a nice difficulty and fun to play. Then the fifth level with the storm became a real pain, basically a non-stop gauntlet with non-stop storms and far too many specials. The finale was going all well and good, but then there were so many tanks. One showed up during a horde, then 2 more showed up just after that, then when rescue arrived 2 more tanks showed up in the midst of the gauntlet to the helicopter... it really ruined the enjoyment of the rest of the campaign.

Pros:

Level 1
Nothing special.

Level 2
Train derailment looks decent

Level 3
Boat ride was neat, but short.
Longer map

Level 4
Safe room matches up with last map.

Level 5
Most detailed map there is
Long enough to be an actual map!

Level 6
I liked the bridge at the end


Cons:

Level 1 (-1)
Poor map design
Rocks look out of place, same with hedges
Beginning car is stuck upside down between two rocks???
Bland environments

Level 2 (-2)
Airplane front at beginning, can see there is no backside
Safe Room house doesn't match up with previous map
Rest of airplane halfway through map?
Random airplane parts
Rocks still seem out of place and repetitive
Bland environments

Level 3
Safe room doesn't match up with previous map again
Boring ending safe room. Literally nothing in it.

Level 4 (-2)
Ending area doesn't make sense map wise and realistic wise.
Whole map is just a bridge, with a train event.
Bland buildings and environments

Level 5
Safe room supplies are kinda just laying there again. As if you just plopped down some medkits and guns without thinking in a realistic sense. The medkits are standing up, all four perfectly. I'm sure you know what I mean.

Level 6 (-1)
Finale area is bland
A house and bridge, the cliffs don't go out far enough so you don't see the edge of the map


Conclusion:

I know this review was harsh on map design, but a decent campaign has good map design
Try to think in terms of, does this make sense to put this prop here? Should I put a random half airplane in my map?

In essence, poor map design, poor game play, overall bland environments, and reused props up the gazoo.

Pros:

- Really good design
- Hard (on normal mod too)
- Lot of zombies
- Graveyard
- Long campaigne

Cons:

- First 2 maps was a bit borring (-1)
- Bots a bit stupid, they aren't helping (-0.5)

Conclusion:

 it's a really good map! Keep up this work!
One of my favourites ! <3


Pros:

Screenshots look nice
An okay concept

Cons:

Missing textures
Bots get stuck in some maps
Very basic lighting
Poor prop placement (I guess that's a plane crash?)
Insta-kill traps
Confusing layouts

Conclusion:

I've written reviews for this campaign before and they generally end up being removed from the site for some reason, but for posterity I'll say it all again: I'm at a loss as to why this campaign is so highly rated. An amateur effort from start to finish, 2 Evil Eyes is not a campaign that I like, which is putting it politely. 

You want challenge? 2 Evil Eyes has challenge for you, with traps that require trial-and-error memorization. Don't know about the trap? Too bad, you're instantly incapped and maybe even killed, all because you decided to check a cabin and didn't know about the comical, Indiana-Jones-style rolling boulder that would come barreling through the structure the moment you stepped inside. In a game where a single incap can mean the difference between winning or restarting the map from the safe room, this kind of "oops now you're dead before you even realized what happened" map design is ill-conceived and frustrating. There's no challenge or skill to it, just simple memorization, something that goes against the entire design philosophy of Left4Dead. 

Venture further in to the campaign and expect to witness missing textures (including one whole entire map with a pink checkerboard sky), simplistic lighting, and generally unclear level design. I spent nearly ten minutes running around in circles in an area near the end of the campaign because in order to progress I had to find a tiny, unassuming walkie talkie out in the middle of a giant, basically empty parking lot. It was so small and so out in the middle of nowhere that I must've walked past it several times without even noticing it was there. To make matters worse, Ellis got stuck on the corner of the very same map earlier on and wouldn't catch up to the rest of the team no matter how far away I got. 

I picked up this campaign because Valve recommended it on the official Left4Dead 2 blog, and I came away not just underwhelmed, but legitimately frustrated and bewildered. You could certainly do worse, but you could also do a way, way, WAY better, too. Ugh. 

Pros:

- Environment
- Easy to follow
- Tree falling over in map 2
- Bot navigation
- Detailed
- Plenty of supplies
- Boat + poisonous water
- Well placed events
- Crossing the bridge in map 4
- Smooth gameplay
- Breaking floor in map 5
- Long campaign

Cons:

- No dialogue
- Finale is boring
- In the start of map 5, survivors can spawn and fall through the floor and die

Conclusion:

Decent campaign full of detail and original ideas

Pros:

I have to agree with another review that I read:
The first couple maps are really good.
The design is creative.
The maps are difficult but not impossible nor boring.
Well thought out.

Cons:

The second to last mast was all storms, which I don't really like, but that is personal preference.

Two BIG cons:
1) It felt like I spent a lot of time with 1 zombie on my back.  As soon as I killed it, another one would come out of nowhere.  My whole team felt like this.
2) The finale was way to hard.  We usually play on advanced and barely beat it on normal.  Complete lack of pills/shots.  Two tanks with water everywhere.  Plus special infected and hoards while the tanks were chasing us.

Conclusion:

Beginning maps are fun but the finale sort of ruins it.  It is more than impossibly difficult, it is annoying and not fun.

If the finale were changed it would probably be an 8 or 9.

Pros:

First four maps are nicely designed and just about right challenge wise
Avoids the unbelievably boring going round in a circle map design so many others have decided upon


Cons:

No ammo in safe rooms, and there's not always one variety of rifle, sniper and shotgun to make up for it
No tier 1 weapons at the start of the first map (always a bad sign, the exception is The Passing, where they're in the first room after the intro)
All begins to go downhill on map 5 - goes from being challenging on expert to downright ridiculous - an event and then a gauntlet at the end with no kits or even a reasonable amount of pills/adrenaline makes it all but impossible
Finale is even worse - SI continuously spawn before you activate it, there is absolutely nowhere even remotely safe, and then the classic - 2 tanks on the second wave - just how do you expect people to be able to evade 2 tanks at the same time when there's water slowing you down everywhere?  Oh, and there's uncommon infected during the finale as well, just to put the icing on the cake

Conclusion:

The first four maps are great, slightly derivative in places but perfectly fine considering the game's limitations.  After that, the difficulty level just goes off the scale.  And it's not just on expert - the finale is difficult enough on normal when you're playing on your own.  Ruins what would be one of the best custom campaigns, alongside Suicide Blitz and Death Aboard.
End of results.