Reviews for Urban Flight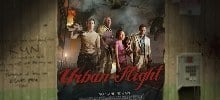 Stellar campaign, Valve quality.

Simply one of the best custom campaigns out there - if you have any interest in playing custom maps at all, this is one you should have.

Well thought out and executed map design, a degree of interactivity and storytelling that goes a step beyond, without becoming too much. A must have vanilla-y experience, with just enough quirks to make it memorable and unique.

Supplies are adequate, gameplay is fun and overall well balanced. Good solo with bots or with friends. Even after half a dozen playthroughs, I still come back to it.

My only minor gripe is that you spend a fair bit of time without a primary weapon in the first map, which is frankly something done to death by custom campaigns.

This review has been hidden because the user has been banned or restricted.

Once dismissed, but revisited and declared great

So I brushed off this map after only playing through half of the first level and dismissed it as another run of the mill campaign using the urban assets.  I am not sure what made me want to revisit it, but I did and played it all the way through.  I really think that this campaign belongs with the best of them:  it is consistently great.
While the urban landscape has been done more than others, this offers a couple of memorable locations, like the car dealership, the docks and the brothel.  The sense of destruction is there, but not too overdone, and the right path is consistently illuminated with subtle lights.  If you have not given this campaign a try, you are missing out.  While the setting is not a new one, it offers a consistently great time all the way to the end.

Fun and keeps me entertained.

I recently got back into L4D2 after maybe 2 years, and had remembered about some custom maps I had installed. 
This being one of them. This one has always been another favourite of mine, among a few others of course.
Great job on making this map overall.

Entertaining

A well balanced map with plenty of supplies throughout. 
It's a pretty big area to explore though you can get lost sometimes.
Only problems were the bots occasionally got stuck in some places,died to the fire & they seem to have trouble getting into the escape helicopter at the end of the finale which is pretty tricky at first.
Good work & I hope you make a new map in the future.

豪快なマップ

非常に広大で、スケールの大きなマップでした。
ㅤ
鉄塔を爆破して倒して足場にするところなど特に好きで、
繊細さよりも豪快さで攻めた、エネルギー溢れるマップでした。
ㅤ
最初に1度、 マップ1 の序盤でエラーが起きて画面が止まり、
PCの再起動を余儀なくされました。
自分の環境のせいかマップのせいかは分かりませんが、
大きなマップでは起きやすい現象だという気がします。
ㅤ
ウィッチの配置など、
ここに現れたらきつい、という運ゲー要素もありましたが、
なんとかシングルで通しでクリアできました。
ㅤ
BOT がハシゴをうまく降りられずに2名即死などありまして、
これは他のマップでもよく起きることなので、
L4D2 自体の仕様の範囲なのかもしれませんが、
やはりストレスですね。
ㅤ
しかし全体的に良かったです。
豪快なアイデアに次ぐアイデアで構成されたマップで、
非常に遊び甲斐がありました ^^
ㅤ
★3.5 にしたいんですが、 ★半分 が選べないため、
★3つ にしときます ✌('ω')✌

This Map is Really Big !

Pro
+ The map like Open World & Free Roam
+ Many Interesting Urban / City Environment
+ Unexpected Saferrom Trap !
+ You will see something interesting in the Brothel
-----------------------------------------------------------------------------
Cons:
- None
-----------------------------------------------------------------------------
This is exactly zombie apocalypse on the city streets !

Awesome Job

An extraordinary campaign for those who like to play custom content rather than the official campaign..I never get bored of this personally..But I really wonder why the custom tank was removed since this is one of the HIGHLIGHTED conent of this great campaign..Unless if someone has the old version with the custom tank on it please feel free to share it with me.. ;-)

Review

Great campaign! Plenty of supplies. Unique map design. No bugs/glitches. No botnav errors. really enjoyed playing this campaign! (Even though I died on the finale 3 times)

Best map I've seen in a while

Literally the best. Atmosphere is great, nothing is too hard, levels greatly made.
10/10

Legendary

After having originally played this campaign over two years ago, I feel it is finally time that I sat down to review it, given all the fun I've had from it. 

This campaign remains, for me, the most beautiful and well designed custom campaign for Left 4 Dead 2. Every section of every map feels like it has a purpose; it's graphically gorgeous, and with the right mods (HD Color Correction and Informal Skyboxes come to mind) it is simply breathtaking. Unlike other custom maps that are based on real-life locations or feature radically different environments, Urban Flight actually feels like it would be right at home being an official campaign in this game, with it's tastefully generic and stereotypical zombie-city-setting. Don't get me wrong, there's nothing wrong with creativity, but this campaign follows the L4D formula so well that even many of the official campaigns are bland in comparison.

The maps felt ridiculously long during the first playthrough, but given a few playthroughs, they became manageable. This campaign rewards you for learning the layout; you learn to check back rooms for magnums. You learn to check boats and trucks for bile jars on the third map. You know how to effectively use supplies on the finale, and so forth. Many custom maps don't do this; they feature unchanging supplies every map, give you too many items, or give you too little. Urban Flight mostly does a great job in this area. 

There are some criticisms I could make, but they're only minor complaints that have surfaced after several years of playing. The finale is definitely hard, as others have mentioned; my friend and I have struggled a lot to beat it on expert two or three times. It's never frustratingly hard though; it rewards you for smart play (and saving all the bile jars!). My excellent gaming machine still chokes quite a bit in the park area on the third map. 

Despite things like this, Urban Flight is truly one of my most enjoyable experiences in gaming, period. I recommend that any Left 4 Dead 2 player try it out. :)

Urban Flight

I enjoyed this campaign very much. The panic events were fun and creative. The urban setting I enjoyed. The levels were a little long but honelsty that I don't mind very much at all because there is always a new area to explore next that is at least a bit from the last. This campaign was very fun and keep up the good work Rabbit.

Pros:

1. good map design
2. cool bridge map 


Cons:

1. at the end of the map after puting the cans inside the generator, i got no idea where to go and i end up in getting stuck running around in circles

Conclusion:

good campaign although i had no idea where to go to get the plane in the end

Best I can tell the penultimate event is glitched.  The last two times we've played it as a campaign, the generator seems to start but the switch at the top of the tower fails in illuminate. We can't get the lift to rise so as to reach the plane for the final showdown. Fun campaign other than this problem.

My krew and I had played this many times in the past with no issues.  However, we played it for tha 1st time in a while, last nite, and ran into that same problem.  What is supposed to happen, once generator is full, is a switch, at tha top of that tower, will light up, you hit that switch, a switch on a platform lights up so you can raise it and get back to tha hanger and, once in there, you hit a switch to fuel tha plane.  I can only guess this latest version is flawed...am going to look for my previous one and hope that tha Author can rectify this version

Pros:

- Excellent outdoor urban settings.  Lots of eye candy and feels very realistic.
- Pathways are a bit confusing at first in some places, but after you play the campaign more than once, they're much more obvious.  The paths are actually linear but they don't feel that way, which is not easy to do.   There are some short multiple routes here and there which help.
- Having only two pistols at the start is a bit worrisome but it forces you to focus.
- "Surprise tank" in Map 2 is cool.
- The long narrow walkways around the building are well done.
- The antenna/roof event is a great effect.
- The recording studios are an interesting setting.
- The bridge event on Map 3 is well done and very intense.
- The finale is a good combination of scrounging gas cans and escaping.  It's tough to move the gas cans up to the generator, but if you're quick and systematic it can be done.

Cons:

- Having a few more melee weapons earlier on would be an improvement.  In fact, there could be more melee weapons available for the entire campaign.
- Map 2 had too many defibs as compared to health kits or pills/shots.  This might have been an exception, but at one point we carried four defibs and found another before any health.
- The "drop through the floors" to enter the witch house is an unavoidable death-trap if there is a jockey or smoker waiting at the bottom; bots will take too long to come to your aid, and a witch will kill someone for sure if those specials are there.
- Sometimes the bots have a really hard time navigating to the plane's loading ramp, even if there aren't any zombies to fight.  One time, a bot was stuck at the front of the plane out on the tarmac and I had to spend time shoving him to "free" him enough so he could move back to the ramp.

Conclusion:

(Just for clarity, I always play on Realism > Normal along with the "Gear Transfer" Sourcemod script, which lets bots carry things like grenades and hand them to you when you need one)

Overall, this is a great campaign and I've played it about five times so far.  I enjoy urban settings and this has great examples and a lot of variety.  There is a very good balance of the numbers of commons and specials; you don't feel unfairly overwhelmed but you're always on edge.  The play on the "Home Depot" name makes me laugh every time. You might want to check one the problem with the bot navigation to the plane escape, because it's unfortunate if you die after all that work because they can't find their way up the ramp. In summary, this is one of my new favorite customs.  Thanks for the great work and well done!

Pros:

-Large maps
-Good weapon, ammo, and med kit distribution
-Not hard to figure out where to go

Cons:

-there is a spot that had three witches together

Conclusion:

A very good, large map that doesn't rely on repetitive scenery to create a large map. It was very fun to play but there was one or two things that weren't programmed properly, but all pretty insignificant.

Pros:

- scavenge final changes from the monotonous "normal" finals
- tower explosion and bascule bridge makes the campaign more diversified
- very fluent campaign (I had never to ask myself "what the  f*** is this doing here ?")
- realistic in the sense that there seem to be multiple ways
- city background is really well-made
- I like big city campaigns :)


Cons:

- I lost my way one or two times (there should be more signs on the ground to show the right way)
- I haven't seen 1 smoker in the entire campaign, but I don't think it has something to do with the campaign itself (must be coincidence)

Conclusion:

Very realistic campaign with entertaining "varieties"
Pros outnumber by far the cons and I think this campaign has (almost) the level of an official Valve campaign

Pros:

AI worked pretty much good, but, unfortunately, not always
Looks great... usually
Pistols are pretty easy to find on map
Complicated in good sense of this word - often there is more than one path available
Dialogues for Survivors, especially liked it because it's helpful like "down the stairs, up that ladder" so player can ensure himself that he goes in good direction
Dat size

Cons:

AI got stuck after tower event
Crash after 3rd map (caused by lost internet connection), all bots hanging on a sniper tower and Tank throwing rocks through stairs successfully took all my intentions to finish this campaign (not to mention Coach running for Hunting Rifle just to hang on a ledge instead of picking up Spas from locker near generator)
Sometimes too dark, sometimes lacks action a little, but not that much
Scavenge finales ain't my favourites

Conclusion:

As always, the only Tank which appeared through campaign had to show with a horde in tight area just before Crescendo Event on 2nd map (or 3rd one, it was so long I don't remember which one was that - tower event)
Rating would be higher, but that crash and total AI fail in finale took all the impression from gameplay.
End of results.