Reviews for Infected City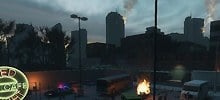 Long journey but fun

Tested this, & it's a long but enjoyable journey. There's no crash at all during my play twice. Bot navigation is fine. Supplies are enough, & even there are good weapon in the beginning of map 1. Highlights & directions are clear enough, though some areas have tricky paths hidden at the corner.
.
Map 1 is about exploring through buildings. Probably on 1st play, some players will feel confused for awhile when looking for the paths after the labyrinth garden, but if they search more thoroughly, they'll find the way. There are some explorable rooms here.
.
Map 2 takes place at subway. There are some abandoned trains & tunnels to pass. Some paths are also little tricky but they're not that confusing to find.
.
Map 3 is inside a closed mall. The paths here are also clear. There's a room with weapons & melee weapons. Some areas are explorable, including the area near the holdout event during waiting the blocked path to be opened, so there are some good spots to camp during the event. On this map, there's a tricky ladder that hidden somewhere. It took me several times to explore slowly until I found a way to climb up, the hidden ladder.
.
Map 4 has no problem either. The only tricky path is when survivors go down to the road & look for a way to go through the blocked path. I got stuck there for minutes...until I let my bots walk on their own & they found the path only in seconds. & it's a tricky ladder again that could be missed during roaming around.
.
Map 5 or the finale has the tricky rescue unit. The area is wide enough to get some good places to camp. After 2nd tank is dead, the rescue time is triggered. However, there's no indication of where the rescue unit will appear, at least until few seconds have passed. So in other words, one more additional tank will appear during waiting to figure out the rescue unit. But players can trick this out by exploring the area first before turning on the radio & switch, to predict where the rescue location may take place.
.
In short, it's a long but fun campaign, playable with bots or with other players. One of good old campaigns, I think. & there's still the next chapter of this campaign, but I'll review that one later when I have time again.

@DarthDed:
Oh I didn't notice that, because back then when I made this review, I made it based on playing with bots, & my friends, but somehow we got no crash. Probably you could help fix the stringtable problem of this campaign, mr. DarthDed. As this campaign has been left untouched here for long time by the author, maybe the author would give you permission to fix & update it again.

you forgot to describe the main problem. there are no stringtables on card number 3, which is why the card fails when someone connects to it in the lobby or on a dedicated server

Long, challenging campaign

PROS
+ Challenging
+ Limited supplies, but exploration is key
+ Decent signs to show where to go
+ Smooth and well optimised


CONS
- NO rescue closets ever
- Map 3/4is waay too long

OVERALL
Decent campaign that is FINISHED (something rare on l4d maps) but drags on for too long making for monotonous gameplay.

Very Fun Urban Campaign

PROS

Full length
Quite long
Original environment, But better than Official campaigns
Lots of hordes
Interesting textures
Great layout and map design/detail
No bugs/glitches
Many events
Very fun
Good Bot's NAV

CONS

Too easy
Sometimes bots can't recognize ladders
Poor ammo in map 1,2
bots almost don't pick pills/adrenaline in map 1,2

Review

Great campaign. However, there is a bug on chapter 4 where if you go past the thing to blow up the wall in the way, you are stuck forever as there is no way to get back up. Other than that, I liked it. Nice map design. A descent amount of supplies. No botnav errors. (Just a few minor teleports) Nice work.

Pros:

Well designed campaign
Good finale layout
Gameplay was entertaining
Well supplied
Survivor dialogue

Cons:

Map 4 dragged on too long
Sometimes directional arrows pointed in the wrong direction, making navigation confusing.

Conclusion:

A long trek through a nice city atmosphere.

Pros:

Well-finished map
Varied chapters 
Interesting and unique events
Finale was different
Good balance of challenging and fun



Cons:

Maze-like layout in parts could be confusing to some

Conclusion:

I especially liked the indoors parts. Infected City is a good map- not outstanding, but still well-made and nicely playable. Good job.

Pros:

+ Intro/Dialogue
+ Quotes
+ Ample supplies
+ Navmesh
+ Fluent gameplay high FPS

Cons:

- Skybox missing texture
- Weapon placement

Conclusion:

Thank you for this campaign, it was a satisfactory gameplay with supple control of mobs spawning.
I've seen some funny spots in the game like the male zombie in the man's toilet and the female in the woman's.
However the map itself can still be polished a little more.
Mapping: 7/10
Event: 7/10
Experience: 10/10
TOTAL: 8

Pros:

==============My Opinions==============
+ Nice wide open map
+ Bots Navigation
+ Plenty of weapons
+ Adequate amount of ammo supplies
+ Easy Finale


Cons:

=========== Disadvantages==============
- Lack of throwables


Conclusion:

Well you say is three hours of gameplay but I managed to complete it within 45 mins. Although it's abit long winded but I love this map that you had designed and I love killing zombies with melees weapons and for sure I love killing witches with shotguns lol. This map is definitely highly recommended to anyone who loves killing hordes of zombies :)

Pros:

-Nice long campaign that is far from a pain to complete in one sitting.
-Pretty easy to navigate.
-Enough supplies placed.
-Plenty of weapons, both guns and melee.
-No problems from the bots. At all.
-Can take your time and explore without fear of constant horde spam (something a lot of custom campaigns tend to do).
-Plenty of wide open spaces.
-Plenty of defibs and frag/incendiary ammo. 

Cons:

-Not many throwables at the finale.
-An arrow directing the players to the boat would be helpful. I found my own way there with no problems, but other players might wait at the radio until the final run.

Conclusion:

You weren't kidding when you said 3 hours of zombie killing action! If anyone else here plans to make a long campaign, this is how you do it. Everything felt it was pieced together just right with a decent amount of supplies scattered throughout. There was never a moment where I felt frustrated or annoyed with anything as I played through. Very well done. A must play for players of any level.

Pros:

======= In general =======
+ A lot of improvements have been made.
+ Very long campaign, took me 2 hours and 39 minutes.
+ Very nice usage of barricades.
+ Very good AI navigation.
+ Enough weapons.
+ A lot of open spaces as previously mentioned.
+ Very good campaign.

Cons:

======= Map 2 =======
- AI mates don't pick up medkits/pills outside the saferoom.
- Pease place a melee weapon before the alarm event.
===================

======= Map 4 =======
- Some more medkits would be nice.
- Quite difficult.
===================

======= Map 5 =======
- No Boomer biles.
- Too many things laying around for the Tank to punch towards us.
- Instructions on where to find the boat please (found it btw.)
===================

Conclusion:

As stated above, a lot of improvement. Nice.

Pros:

-Interesting level design
-Detailed
-Panic events were fun

Cons:

-Huge graphical glitch in first chapter
-No respawn closets at all (?)
-Navigating through levels felt really convoluted at times
-Spent a long time searching for the radio at finale

Conclusion:

Pretty good campaign, fun, sometimes confusing

This review was posted before the latest release.

Pros:

-Good detail for the most part*
-Supplies are well balanced & ammo upgrades/laser sights/power-weapons can all be found*
-Survivor dialogue, and somewhat of a story. (The opening scene and the beginning of Map 4 are connected which is cool. Play it to find out)
-Long, but not so incredibly long that it's frustrating, just a bit more time consuming. Supplies are distributed well enough for the length too.
-Difficulty is decently balanced


Cons:

-Like a lot of others have been saying, there is a rather big graphical bug in the first few minutes of the first map, where a (what appears to be a camping van) constantly spawns all over the place clipping into the ground, buildings, everything. Also upon leaving the first building, into the parking lot type area one vehicle fails to appear at all yet the shadow is there and you can see dead infected bodies on what would be the inside of it, and an infected that appears to dangle on it's roof. I'm assuming this missing vehicle is the one that is appearing in the graphical bug. This all needs to be fixed!
-*Most of the campaign shows good detail, however I noticed a lot, and I mean A lot of re-using of the exact same objects and textures. Detail also was not as impressive in the later maps. It gradually decreases throughout the campaign.
-*Supplies are good however there is simply way to many laser sights. Also in the very first level, within a minute of playing I came across Laser sights, an ammo upgrade, and a grenade launcher! None of these should appear this early, Especially laser sights spawning with the starting weapons!
-Not the friendliest campaign to bots. They tend to trail behind a little bit, will not pick up certain items, and they will also jump off the ladder in the elevator shaft resulting in their death.
-At the event on Map 4, if you walk over the bus on SP, you are trapped on that side, with no way of getting back or firing the gun to start the event -_____-
-Finale is another typical stand-off with two tanks, and the directions at the beginning should not lead you to a door that you can't enter yet. It should tell you where to start the event!
-I've noticed nothing has been added/changed to this since October... which is a real shame seeing how much potential this campaign has.


Conclusion:

Like I just said in the conclusion, this has potential, and a fair amount of it! It's currently not a bad campaign, but it really isn't a great one either. It is a lot longer than I prefer, but it makes up for it's length with a decent sum of positive qualities. I would love to see more improvements be made to this one, which is why it worries me that nothing has been done since October... however this campaign is still good enough for me to recommend it at this time.

This review was posted before the latest release.

Pros:

- LONG (yes, that's good to many!)
- Lots of zombies is darn-tootin true
- Great visual detail & lighting

Cons:

- Not really 3 hours
- Ammo is scarce but not as bad as previous version
- Health is very scarce to the point of frustration
- Updated lighting very unoptimized

Conclusion:

This campaign is hot. Long with lots of action. To folks who love the game, it never gets "boring" at all. In fact, part of the thrill is exploring through such long maps to see what's there (and hopefully running into tanks along the way -hehe).

Only gripe is please put at least more pills here and there, if not kits. The way it is now is like hardcore realism, when it shouldn't be for a co-op adventure. lol (Note: Better in most recent version)

This review was posted before the latest release.

Pros:

Made a mistake and I put my review on the wrong campaign.

Cons:

Already sent a message to the admins to request them to remove the review.

Conclusion:

Waiting for the admins to remove my review.  If anybody can tell me how to remove it, please let me know.  

In the meantime I am putting my review at 76 so I don't screw up the averages. 

Derp Derp!

This review was posted before the latest release.

Pros:

Long Campaign
Nice Maps
Interesting Place
Many infected to kill

Cons:

Very low ammo pile
Very low medikits/pills/adrenaline
The alarm counted multiple times
The ways were sometimes very difficult to find
Some doors were not open or mutilate.

Conclusion:

The name says it all. There were many infected as to kill. However, it quickly goes out of ammunition and one which is rare. Along the way there sometimes for collecting weapons, but even they are rare. Medikits, pills or adrenaline is also found less frequently. I almost killed more zombies with the Katana than with firearms.
Also, I could not open some doors, and I could not destroy it. That was only possible through the special infected or the normal infected.

This review was posted before the latest release.

Pros:

no glitch
no lag or something like that
very interesting campaign

Cons:

nothing at all

Conclusion:

i would like to recommend it to everyone;))

This review was posted before the latest release.

Pros:

Epic

Great levels

Lots of infected to kill (I personally killed over 2000)

Very challenging

Cons:

Could use a few extra medkits and/or pills

Could use an extra ammo pile or two

Bots sometimes don't take medkits

Conclusion:

A nice long epic campaign. It took me 3 hrs and 1 min. The bots' stupidity could be frustrating as they were always getting themselves messed up.

This review was posted before the latest release.
End of results.