Reviews for The Dark Tower 1 The Gunslinger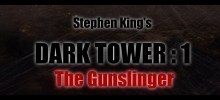 Thank you. Finished in 1hr, 27min & 5 Restarts, Expert Single Player Mode

Checkout my complete walk-through for this campaign through the link below:

h\t\t\ps://youtube.c\o\m/playlist?list=PLOFtKLS6rEvm_UrFhGzZJVLZnY0T6L3KS&si=Ufgngu6Jk7StsbZh

Copy the URL, Remove \ from (h\t\t\ps) & (c\o\m), then Press Enter
------------------------------------------------------------------------------------------------
This map was played on PRO edition first and I can say there is no much difference between both versions (Only Pistols & This one) You can check my long detailed review there when I couldn't record because of my lame laptop I got, but it took almost x2 of everything like time & restarts when I played your map for the first time as I finished it in 3 hours, 2 min and 12 Restarts. So I take it as a shame to have this number of restarts when I play it again even if it's after years from my first game play :) 
---------------------------------------
Ch1: It was completed after 1 Restart and it's still a hard run. The same as ch1 in only pistols edition as we found no pistols along the chapter.
-------------------------------
Ch2: It was completed after 1 Restart because of that witch I startled by exploding boomer next to her when I entered saferoom in my first try. Check video.
-------------------------------
Ch3: It was completed with 0 Restarts although it was a hard run and I was about to die when 2 smokers showed up to grab me, but Nick helped.
------------------------------
Ch4: It was completed with 0 Restarts and it's considered the easiest and the shortest with no panic events or zombie chasing.
------------------------------
Ch5: It was completed after 2 Restarts and I can say it's the hardest chapter with the longest run while hordes are showing up from time to time.
------------------------------
Ch6: it was completed with 0 Restarts and it was full of supplies and some mistakes from my end and I was about to lose when I was next to safe room.
-----------------------------
Ch7: It was completed after 1 Restart and I knew where that rescue platform would come from, but those stairs weren't there in PRO edition.

Statistics of both campaigns can be compared, but the funny astonishing thing is I made it from first time on ch5 in PRO edition and it was my first time with 0 Restarts while I restarted it twice and I knew where to go next and I got rifle as well. Some hard features may have been added, I was lame or just unlucky back there. 

I found that I played all your maps and I am glad that you are the owner of Innes Road Rash and Ottawa Rock City. Your work is really good and I couldn't record any of your other campaigns because I didn't have my good laptop to record with back then. I will do in the future and record them all when I am done with all other maps.

That whispering/lowered volume voice in the beginning was telling something about the original story and what is supposed to happen on each chapter? No clue.

Hope I see more of your maps.Thank you.

Review

*REPOST Poorly made campaign. Map design was extremely bland and boring. There was a huge lack of supplies throughout campaigns. But other than that it was ok. No botnav errors. No glitches/bugs. I didn't really enjoy this campaign. Running in a straight line is not fun. Also no idea where the rescue vehicle was.

Nice, but definitely not for beginners

Well, because I usually test in singleplayer to test the difficulty level, this was the first map I considered as "map not for beginners" even in normal difficulty. I can finish it with bots because I used my custom weapon mods to fight through horde & escape from the endless horde in map 3. Even I restarted once inside the cave because the bots got to far & were just dancing around on their locations. You only get pistols on early maps & you'll fight against horde, SI & Tank with mostly pistols on early maps. The maps also lack hints, so if you find some, follow it carefully as the maps are mostly in wide areas.
.
If you insist on trying, here are few clues & guides from me:
- If you play with bots, make sure you use custom weapon mods or modified weapon script mods as you can't hardly depend on bots with pistols
- On map 1 & 2, look for few arrows & follow them & don't break them or you'll get lost. Beware of safe house on map 1 & 2
- On map 3, follow the arrow & keep running while looking out of Special Infected amidst the horde or around you
- On map 4, sweep the border/ forest wall
- Map 5, look for the witches & climb to mountain
- Map 6, don't get too far as bot navigation is limited inside cave
- Finale, go back to the safe house & follow the path until you meet a big book as a floor up the stairs. That's the rescue point.
.
& then, it's time for review.
Pros:
- Wide open areas in most maps, so that makes it easier to spot SI & fight tank.
- Bot navigation is ok (but there's minor cons about this too) .
- The medkit & pill supplies are enough.
- No crash.
.
Cons:
- The hints & arrows are too few. You may get lost if running randomly without following the arrows
- Lack of weapons of higher tiers on early maps
- It's still possible in normal, but really difficult on expert to fight tank on early maps especially map 1 with only dual pistols if the horde is joining the tank
- Map 3, the runaway through endless horde, can be difficult if someone forgets the direction of the arrow in the middle of running. Several SI also come when arrived on certain location, often blending with the horde
- Map 4 & 5 lack hints & arrows so someone will get lost if not sticking to the forest wall & looking for witches
- On map 6, bots become silly dancing around if you walk too far from them
- On map 6 near the train with ammo pile & some supplies, there's a trap supposed not to be there. There's another train behind the rocks, which is a trap. If some players jump there, they'll find nothing & instead, they're trapped as to get out of there they need to jump back on the rocks that can make them stuck, or they need to use noclip. This area should be blocked by a wall so that no players will be trapped (bots are ok as they can teleport anytime they get stuck).
- On finale, the rescue is not highlighted nor there isn't any hint so it makes the finale difficult if someone has to search the entire area through horde & tank to find out the rescue location (which is actually very simple) .
.
I give 4 stars because of too few hints, bot navigation getting a problem inside the cave, & no highlight or hints to the rescue on the finale. But I enjoyed the map as the map worked well & no crash happened till the end. Good work. I'll keep this map to play later & challenge myself again :) .

Nice tribute but needs improvements.

Good
 
 A campaign based on a novel by Stephen King.
The narrator in each part.


Bad

While having an large open world is a good thing,the areas felt kind of bland & empty. A few buildings in a desert it just seems empty.
It's very easy to get lost even with the arrows,it's too vague to know where to go.
Lack of supplies & tier 2 weapons,I explored the maps but barely found anything like throwables or pills.
The near constant hordes coming at you,which really is off putting.
3rd map with the infinite hordes,that was almost made it unplayable.It's too dark to see where to go & you got hordes/specials coming after you,not a good idea.

This is a nice idea for a map but this needs some work to made it better. Horde/supplies/weapon balancing,adding more structures something to make the maps look less empty/bland.

Pros:

- I can tell a lot of time and effort was put into this.
- Arrows to help guide players. Definitely needed.
- Some of the locations, like Stonehenge and the forest river, look very nice.
- Having HDR for the desert sun is good.
- It's nice to start the campaign during daytime, and have the environment slowly turn to night over the course of it.

Cons:

- Like the other reviews are saying: Most of the levels feel like just going from one saferoom to the next with huge, open, empty areas in between. I understand these are based on settings from the book, they just lack detail. It reminds me of pasting one tiling grass texture across a huge map in Age of Empires 2. I feel that it could benefit from smooth hills and valleys, cliff faces, dropoffs into deadly caves, but most of all, patches where the texture differs  slightly like a real landscape, or the occasional stray desert plant.
- Huge, jagged hills (with some of the them you can't tell where it's safe to slide down) and lots of major texture stretching on the land.
- Some of the structures (like porches and train tracks) seem shoddily put together and their parts don't always connect.
- Skybox doesn't really match the nighttime settings. When all around you the land is dark, but the sky is still blindingly bright, that just isn't right.
- Finale was very confusing. We ended up traveling to two very long dead ends of a cliff, then noclipping to the bottom of the beach before the finale "vehicle" activated. And I know we were in the exact same area as the book before. We had no idea to wait there, defniitely could use some instruction.

Conclusion:

There aren't many other campaigns like this, I can say that much. The only thing it really needs to improve is attention to detail. It has huge environments, but the whole campaign seems lacking in the little details.

This review was posted before the latest release.

Pros:

-Recreates elements from the book, could feel like you're there at times.
-Definitely Challenging, flooding of zombies with just pistols can be a pain, but was enjoyable.

Cons:

-A lot of empty space, felt too open for a L4D map.
-Too few spots with a medium amount of zombies, felt like      there were 5 zombies, or 500.
-Can be overwhelming if playing with bots
-Narration, while creative, was too quiet, and didn't add anything to the enjoyability of the storyline.

Conclusion:

Definitely worth a playthrough if you've read the books, otherwise, I'd pass.

Author seems to have a talent for developing campaigns, and I'd gladly love to play another.

This review was posted before the latest release.

Pros:

+ Real desert
+ Boomer in the saferoom
+ Rails in the air

Cons:

- Not enough supplies
- Special infected can warn hordes
- Gun shop under ground
- No instruction or sign to tell where to go(3rd map)
- Too much hordes in the 3rd map

Conclusion:

I think it's improper to let a special infected warn the hordes. It's unfair.
Has the author of this campaign survived the 3rd map with Valve's three bots? And what did he do to that boomer in the safe room?    -.-

This review was posted before the latest release.

Pros:

nice narration
original textures
different

Cons:

no tier 2 weapons till really far in the map
few and far between ammo stashes
no indication of where the rescue vehicle is 
among other things....

Conclusion:

I can defiantly appreciate the work and time that goes into creating a detailed map such as this one....but....I found a map of this size to be rather boring...all you do is run around trying to figure out where to go and you end up getting lost or going the wrong way..then you have to walk all the way back and start over.Random tank placement and hordes keep your guns firing "of which you don't find many guns throughout the map, or melee". 7 maps of the same thing over and over again, walking......walking.....and more walking..
If that is the kind of map your looking for, not much of a challenge and alot of walking, then this is the map for you.As I said i DO appreciate the quality of the map and the hours put into it to create...I just think the map could have been better in ways of game play, visually its beautiful...other than that...meh...
I dont see how sooo many people are rating this high,I only downloaded it because of the high raiting and I was extremely disappointed...

This review was posted before the latest release.

Pros:

Narration  :D
Good storytelling
nice atmosphere
interesting storyline(haven't read book)
L4D & 2 survivor corpses


Cons:

Got lost a few times
(When using bot fixes and you have died on the fourth map, your team reaches the safe room but just sits in the room waiting until eventually(10 mins later) they will close the door.NO points deducted.

Conclusion:

Overall, I enjoyed this map.I loved the narration at the beginnings of each start.The story was good as well. I like the fact that we start out with pistols until finding a pump shotgun somewhere,that really fits in the whole western feeling.

This review was posted before the latest release.

Pros:

Nice looking level design.
Different from the usual urban setting of most maps.
Very atmospheric.

Cons:

Can be a bit unclear where you need to go.
Some floating items.
Can clearly see where the map and skybox connect on some maps.

Conclusion:

Definitely a very good looking map. It does have its share of bugs though, Like floating items and i was charged off the mountain at the end of a map and me and the charger got stuck. And its very open, so its quite possible to get lost. I'd recommend playing it for a change of pace.

This review was posted before the latest release.

Pros:

+ You have ultimately finished working on this.
+ Campaign based on a book which actually shows an eye for detail.
+ River map was absolutely great.
+ Very long and difficult campaign.
+ Finale area was very nice as well.
+ Custom sounds, intro and outro.
+ Almost no copy / paste work (maybe none, not sure)
+ Pretty amusing also on Singleplayer.
+ Many improvements compared to your previous work.
+ Very cool and interesting campaign.
+ Wide opened areas for optimal space for fighting.

Cons:

======= Map 2 =======
- Hovering items on the floor.
===================

======= Map 3 =======
- Not optimized for Singleplayer with AI.
- No melee weapons inside the saferoom to fight the hordes efficiently. 
===================

======= Map 6 =======
- Cliff next to the rails was not suiting, in my opinion.
===================

======= Map 7 =======
- Searched for help quite some time... finally died...
- Missing hints on where to find our help.
===================

======= Miscellaneous =======
- Partly exaggerated horde events (wont charge that)
- Partly mediocre AI navigation.
- Please add some more hints as well!
=======================

Conclusion:

Yeah as I have already mentioned, you truly made a lot of improvements. But still some Cons should be dealt with. Map 3 was too hard with AI in Singleplayer, because there were no melee weapons inside the saferoom. All in all very good campaign! With your next update I will change my review of course. Glad you kept developing. 

This review was posted before the latest release.

Pros:

- Custom sound
- Very unique to other maps
- Like how weapons are very rare, gives a more survival like feeling to everything
- Lots of throwable

Cons:

- Poor detail in many areas
- Way too open in the open
- Way too dark in the later levels, darker doesn't necessarily mean scarier
- Easy to get lost
- Little to no hints on where to go

Conclusion:

The map is very buggy, and not very polished. It's really only fun to play if you've read the books. Otherwise, it's kind of annoying and sometimes frustrating to play through.

This review was posted before the latest release.

Pros:

- the maps get darker and darker as you go
- faithful to the books
- liked map 5; long and took a while to get into the mountains
- the escape vehicle at the end of the finale made me LOL; nice touch

Cons:

- lots of bugs (see below)

Conclusion:

The following bugs were encountered in my playthroughs:

- graphic glitch causing sky to tear at finale  (maybe intentional by map author?)
- couldn't transition across maps 6 and 7; booted out to lobby
- couldn't transition across maps 1 and 2; booted out to lobby
- safe room doors sometimes require to uses to successfully shut
- tank in finale got "stuck" and couldn't find us.  We had moved over to the sign and tank couldn't find us.  Had to run down towards the lake (to the right) in order for tank to navigate up hill and get to us.

Overall, I had fun with the campaign.  Needs a little spit and polish, but not bad for a first effort.

This review was posted before the latest release.

Pros:

- "huge" Maps (But first 3 like total empty)
- Has potential
- Enough Medi Kits

Cons:

- Mostly empty maps
- kinda bad look in the dust, no story, like why are there on map 2 randomly some houses and a church (saferoom) ???
- Map 1+2 absolutly like no weapons, found only one machete and pot for 4 people, 1 shotgun (and no ammo) and later on in Saferoom from 2nd to 3rd map again one shotgun... And no ammo to refuel the Shotgun from 2nd map
- To many hordes for double pistols on map1+2
- Perma horde since we went out of saferoom from 2nd to 3rd map... Was fun without ammo and only 2 melees...
- Spawns from hordes/zombies are total shit:
    - Stood in the barn on the 2nd map,  chause of some zombies almost in a corner, right behind me a huge horde spawned...
    - Zombies/Hordes spawned also randomly in the dust right behind me
    - Was in a building, didnt even enter a room fully and in the floor next to me again a horde spawned (also my 3 friends told me same stuff occured to them on the map)
- Bad NAV (Saw twice how special infected stuck on a door, once a jockey on the door from saferoom and once smoker in a building)
- First in 3rd saferoom there were some usefull weapons etc.

Conclusion:

If you like perma hordes with mainly pistols only on huge environment, go ahead and download.
Otherwise go with a different map or wait till all the stuff is fixed...

Will make a new review with the next update, lets see if you can fix that stuff

This review was posted before the latest release.

Pros:

Large maps.
Interesting areas.


Cons:

Not enough events, specials or just over all hordes.


Conclusion:

Needs more events and a lot more hordes. Spent too much time just moving through areas with minimal activity. Although the maps are large they don't have enough things going on. Good concept and all but not enough action.

This review was posted before the latest release.

Pros:

good style

desert lost just as it should be

pew pew pew beginning me and my friend had a pistol duel due to no idea where to go but i wont add that to cons because WE ARE SUPPOSED TO BE LOST IN A DESERT

lots of pistols

crazy tank momments

just too awsome to be con'ed

Cons:

the only cons are i keep loseing durring the duels with my friends...

Conclusion:

ONLY FOR lost people will add major cons and this map is easy enough

This review was posted before the latest release.

Pros:

-i love desert maps
-traps around that can alert the horde
-witch near the safehouse
-Dark and creepy chapter 5th and 6th
-finale was great
- you will see l4d1 survivors dead

Cons:

-lost easily
-bots are so slow
-chargers always catch me



Conclusion:

this map is so great i recomend you to play this map!

This review was posted before the latest release.

Pros:

-Love how big the maps are
-Love how well it goes with my server config
-Love the jumpy terrains
-Love the third endless horde map

Cons:

-Very little directions, easy to get lost
-Not enough tanks and witches
-Should make more maps endless horde-like


Conclusion:

Very fun and difficult lol.
Best i ever played

This review was posted before the latest release.

Pros:

-Epic campaign for an epic book
-great atmosphere
-Some hordes were challenging
-In desperate times, forced you to search for supplies
-Wide open spaces

Cons:

-Bots are average to dumb
-On the chapter with the saferoom near the barn, bots refused to enter the saferoom.
-Wide spaces don't do justice for special infected (except Tanks)
-Some map glitches

Conclusion:

All in all, this is a stupendous campaign. Only problems I see are map and nav based. Other than that, good work mate.

This review was posted before the latest release.
End of results.