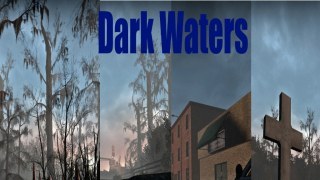 Dark Waters
You are downloading as a guest.
The extended gallery contains images from all community members.
After crashing their bus, survivors must cross swamps, villages and towns to find a way to escape this hell.
02/27/16
========

Bug in map 3 fixed.

12/24/15

Thank you! Enjoyed. Finished on Expert single Player in 1hr & 43min & 3 Restarts

I enjoyed playing this campaign except for so few issues. Firstly, I hate swamp campaigns because of water and the high density of trees and bushes that will not let you see what is coming and from where. Glad that campaign was during daylight XD Secondly, 1-2 chapters got issues.
---------------------------------------------------------------------------------
Chapter 1 was good and for me, it was fairly short. The issue was that part, which is supposed to be the sea looked like it was reflecting us or our area and it was more like a glass than a sea. I passed that chapter from first time and glad I wasn't charged like Nick as he died immediately with charger and moved further with 2 bots hoping to get to safe room as soon as possible. Loved that I could see the safe room blocked by those bushes forcing me to move around to pass by the witch. It is a nice touch!
---------------------------------------------------------------------------------
Chapter 2 was passed from the first time too and as for issues, bots never went upstairs with me inside some houses except for the house that took us after the fence. So this is a navigation issue. Loved how items are spread and it was fairly done really along the 4 chapters. after the panic event was over (stood inside that small room which is like an opened empty shop or storage and none was touched) I moved further into woods or swamp and felt I would meet something so I passed by a walking witch and a tank was waiting so close to safe room. We retreated and they kept shooting and had to move alone baiting that tank with the lame bots and it really worked, but was alone being chased by charger and 2 zombies along with tank. But I was faster enough to enter the safe room. 
-----------------------------------------------------------------------------
Chapter 3 is the longest and hardest in all chapters. I got a bile bomb in the safe room which was great and I thought I could use the bile bomb I got to make the best use of 2 bile bombs upon moving, but after using the one I have, I found out there was no way back to the safe room from that sunk tunnel so it was really tough for me worrying about how it is going to be ahead and hoping to find another bile. You successfully managed to make it a long chapter going in and out of buildings in a such nice way. I took 1 Star off mainly for the fact that I wasn't notified that I should run to safe room and only being told that the alarm will ring and that made me restart that chapter twice although I made it almost in front of the safe room, but I would react differently and early if I knew I should run to safe room from the beginning because I stayed and fought for like 2-3 minutes without moving forward. The 3rd time when I passed it. All bots fell outside warehouse and I used the bile bomb I got and ran all the way to safe room being chased by a jumping hunter and most of horde was behind so I didn't kill many zombies to keep them behind me not to be spawned in front of me. It was intense and I was for many times that alone in different campaigns and similar runs. 
-------------------------------------------------------------------------------
Chapter 4 / Finale was a short way down the ditch and it was a unique finale area to be in cemetery reminded me with Dark Wood, but of course Dark wood was harder. Only restarted this chapter once due to the fact there were 2 tanks in the second round which surprised me XD Bots got knocked down and a smoker sh*t grabbed me. Supplies were sufficient and there was at least one bile bomb and one Molotov. The best camping spot for me and my bot team was beside the weapons table as we covered everything professionally and we rarely got hit. Yeah, just like the guy down there in comments wished, I wanted to see where that car would go, but the screen just got darker and credits. Enjoyed regardless of those missed guides or tiny bugs. Thank you.
File Details
View Changelog
Version 1.1 Final