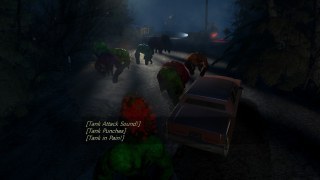 Random Tank(Not skin)
You are downloading as a guest.
The extended gallery contains images from all community members.
ATTENTION!!! A person known as Everice died from Covid-19. There will be no more further update. - Everice's brother

This mod can not use together with Admin System, Loots Drop, ******' Custom Weapons, or any other mods that using VSLibs or Vscripts



Randoms 1 in 25 kind of tanks(15 tanks on regular class. 9 on Ultimate Tank class. 1 Unique Tank) when it spawns
Works only on official maps. and must play on Local Host only

[New Update]Added Ice Tank

Due to alphabets limit, i can't explain all details on each Tank here.
_________________________________________________________________________________

[Regular Class]
NOTE: HP will increase base on Difficulty
NOTE 2: HP on each Tank below is base on Easy

⤇ Fire Tank [4000 HP]
⤇ Spitter Tank [4000 HP]
⤇ Death Tank [6000 HP]
⤇ Speed Tank [3500 HP]
⤇ Healing Tank [3333 HP]
⤇ Gravity Tank [4000 HP]
⤇ Corrupted Tank [5500 HP]
⤇ Emperor Tank [5000 HP]
⤇ Metal Tank [3500 HP]
⤇ Shield Tank [3000 HP]
⤇ Ghost Tank[3800 HP]
⤇ Shift Tank[5000 HP]
⤇ Rage Tank[5500HP]
⤇ IceTank[5000HP]
_________________________________________________________________________________

[Ultimate Class] - They have fixed HP unlike regular class
⤇ Element Tank[7500 HP]
⤇ Radiation Tank[11000 HP]
⤇ Chaos Tank[10000 HP]
⤇ Phoenix Tank[8000 HP]
⤇ Battle Tank[20000 HP]
⤇ HellFire Tank[9500HP]
⤇ Epidemic Tank[15000HP]
⤇ Mecha Tank[10000HP]
⤇ Explosive Tank[8800HP]
⤇ The Undying Tank [1~2 HP]
_________________________________________________________________________________

[Unique Tank] 
NOTE: Only Available in All stars enabled
NOTE 2: Random Fixed HP
⤇ Gamecancer Tank[8000, 8500, 9000, ..., ~20000 HP]

Special Commands
- !ff = Switch On/Off Friendly Fire damage. enable it to completely immune to all damage from teammates
- !rd = Switch On/Off Random health items that drop from Tank and randomly appear somewhere in the map
- !bdef = Enable/Disable Bots Defense. Bots will take 70-90% less damage if Bots Defense is on 
- !autoRev = Enable/Disable Auto revive system, if enabled, when survivors die, dead survivors will be revived in 17 secs and get full hp
- !ult = Enable/Disable Ultimate Class.
- !all = Enable/Disable All stars class.
- !reset = Transform current Tank(s) into a Regular Tank(No Special Ability)
- !hud = Turn on/off Tank Hud
- !nt = Enable/Disable Tank Respawn Timer(Tank will spawn after a certain time has passed and will respawn again after that)

If anyone have idea or share, feel free to share it. your idea might be help a lot.
Changelog click below
˅˅
03/13/20
========

Reduced CS weapon damage
Fixed !ult and !all don't work properly
Removed Max ammo for every weapon

Best Tank mod

this looks like from Sourcemod i was used to play on steam group servers before. 
but this somehow quite difference from Sourcemod ones. i mean some tanks were pretty cool, especially Gamecancer Tank. This Tank, we don't know how much its HP cuz it's some kind of 'glitch' looks like in the display and its description was wierd. not sure if this a bug or modder willing it to be like this. plus this tank has other tanks' ability(sometimes  it fires laser as Mecha, sometimes drop spitter and fire)
anyway, this mod made my day. it gives me a challenge and new way of fighting the Tank. good work man.
Oh can you fix where 2 Tanks sharing abilities? sometimes they don't give me a chance to type !reset especially when 'Shift Tank" and 'Death Tank' appear, they could 1 hit kill and teleport around haha

This review was posted before the latest release.
File Details
randomtank.vpk
(110.5 KB)
View Changelog
Version 12.6 Complete