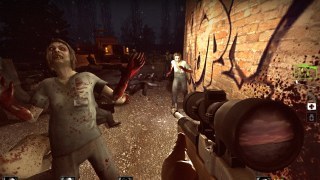 Beginning Hours Thundersnow Edit
You are downloading as a guest.
The extended gallery contains images from all community members.
My take on this fun campaign that was originally created by SpeedBoost. He has a string of back to back campaigns and this is the first one in that series. I've reengineered maps 1 and 3 and fixed any nav, texture, and model issues throughout. Map 3 ended up with thundersnow by chance. Something we get in NC once in awhile :). Snowing while thundering. Basically the story is that the survivors are stuck on a ship, and zombies have taken over. Make your way through

 the country to be rescued at one of the local farms turned military outpost. The door to the helicopter pad will only break once the escape vehicle (helicopter) is ready. Be careful it sounds like someone is changing on the other side of the door?
Map 1 - now has a gauntlet and a helicopter landing facility although that's not how you'll be leaving.
Map 3 - now has a helicopter landing facility on top of the house instead of something that was either invisible or didn't work before. Careful of those cars. The tank can move them around now.
11/23/18
========

This campaign uses the same two maps from beginning to crossover but I modified the third map to have a proper finale. Fixed all remaining issues with nav, textures, etc. on all maps. All maps including 1 - 3 are now working great.
Thanks man, but this really pissed me off! Review + Hints ( 2 stars NOT 3 ) Forced by this site.

First of all I finished this campaign on Expert Single Player Mode in 1 hour & 6 minutes. First time I played this campaign was few days ago and it was my first try while today is my second try. My first try was really intense. However, I managed to pass chapter 1 for the first time regardless of the constant hordes and the spawning of multiple smokers and more. I had to restart the second chapter because I found that hordes are still there along with a tank that was waiting and I just did it from the second time and I really loved how that chapter was short, but tanks made it a little bit long. 3rd chapter was really bad although it was really easy with much space to move and fight tanks. I restarted it 3 times and on each time an issue should take place as there were certain navigation issues especially around that big tree where we can either find a pipe bomb or a defibrillator. On another time when I moved from that house where the finale radio exists towards the safe room as tank was attacking, bots got stuck by that car before the burning truck because I took a certain route towards that barn or storage opened from both sides and tank incapacitated all. Another time, tank threw a rock and it just went through the military truck to hit. Really? The same took place with a bot with the bushes line in front of that tree. At least make the rocks pass over the bushes not through them. This is not how Left For Dead works. Almost the last time I tried the finale, I survived till the rescue arrived and I saw that helicopter is landing on the house roof and I was the only one there while Coach was done so I ignored it and moved upstairs searching for the way to that helicopter so I turned right to the bathroom where we find a health kit, but it was the wrong route while tank came after me and I got incapacitated. No single sign to show where to go and it was really bad. 
------------------------------------------------------------------------------------------------------------------------------------------
Decided to take a nap and resume, but lights went out and my progress should now be reset because I always do it from beginning to the end even if I keep my laptop ON for days. My laptop wasn't on hibernate mode and didn't save anything so I decided to restart it all over again today.
------------------------------------------------------------------------------------------------------------------------------------------
Today, I restarted first chapter once as I died by a hunter right after I moved up that ladder from the sunken part. On the second try, hordes didn't attack like before and Rochelle was dead by some reason like she jumped off that ship by mistake so we were 3. No hordes attacked and it was so weird, but it was for our good to move in peace. It was like something was holding constant hordes off. On the other hand, a witch was crying on the way to the final area where the helicopter shows up. The second chapter was a mix between screwed luck and insane hordes along with really bad scenarios of spawning special infected like the game director didn't want me to win on that attempt while the absence of tank was causing more hordes to come as they will keep coming until a tank shows up. I restarted that chapter 5 times although I only restarted it once when I played it for the first time and passed it on the second try. The tank main spot was inside the warehouse and it always spawned there to stop hordes. Another tank was waiting so close to safe room downstairs that caused my death on an attempt. 3rd chapter/Finale was not restarted at that time unlike the first time I played that campaign as I investigated the entire house searching for a way to go upstairs to get to helicopter. I did it so well enough that bots didn't get incapacitated by any common infected or special infected. A nasty navigation error that occurred while moving from the area where the house exists to the area where the barn and the safe room exist and by that exploding truck. If I move towards the borders of the map, bots will get stuck to the burning car in front of the table with supplies. If I move around the exploding car but from the other side, not the map borders side, bots will not get stuck. After killing the two tanks, I expected to have that door by stairs opened to have access to the room, then to the roof where the helicopter awaits so I went upstairs and kept pressing E, but nothing worked until a nasty tank burst out that door knocking a bot off and moving on to the next bot and I was like WTF. So a tank is blocking the way to the helicopter and we should have waited till it comes out, then we move up, but I never knew it. The last bot managed to get me up while tank was hitting bots along with attacking zombies as it was busy with zombies getting attracted to the bile I used on it and I was up and it was a really funny situation to hardly move between bots, zombies and tank trying to get inside the room, then moving out of that window to the roof. I hardly did it and was afraid I would fall for a tank fist again, but luckily it didn't happen. 
---------------------------------------------------------------------------------------------------------------------------
I loved that map, but those navigation errors screwed my run indirectly causing my restarts to the entire campaign, specifically to chapter 3. That house was the best spot to camp while fighting hordes on both rounds as I camped upstairs by staircase. When it's tank turn, we move out and keep shooting till it is down. Thanks for porting the map, but those navigation errors I really hated and caused such rating.
File Details
beginninghourstse...
(203.3 MB)
View Changelog
Version 2.3 Complete