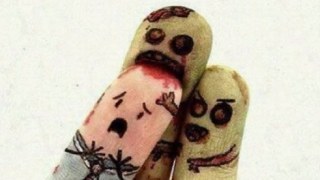 Dead Industry (L4D1 Port) (Fixed)
You are downloading as a guest.
The extended gallery contains images from all community members.
(All maps are renamed so there is no conflict with any other campaign version) - In this 5 map campaign created by "2009" we find our survivors working their way through a French town looking for an escape. Eventually they make their way to a park for a helicopter rescue. I've always liked this campaign, and it played ok, but had lots of annoying little things wrong with it. After about 3 - 4 weeks invested this thing is finally running. One big improvement was

 replacing the skyboxes with some lighter views. Makes the game more enjoyable. Check the log for fixes.  I've hidden a couple of Halo Easter Eggs :)

Map names: 
l4d_bureauxfxd
l4d_chantierfxd
l4d_l_usinefxd
l4d_la_ruefxd
l4d_le_parcfxd
05/25/20
========
Every map got a major overhaul. Cube maps were overboard causing issues, replaced all of those. That required me to replace about 30% of all the texture which reduced map sizes down to about 1/5 of their original sizes.  Added missing models as required. Fixed rescue spawns as they weren't setup correctly by the author
Nostalgic L4D1 campaign port

Thanks for porting this one. It's a nostalgic campaign. Last time I played this was when I roughly ported some L4D1 campaigns for my personal use because I saw some good L4D1 campaigns but not available/ ported on L4D2 yet. Some objects were invisible because I didn't properly ported & I just renamed the ".vtx" into ".dx90.vtx". I still remember most areas, including the beginning of map 1 with the crane.
.
This port works perfectly. Bot navigation is fine & the supplies are enough. The highlights & guide arrows are clear. The campaign is kind of long especially the finale, but it's enjoyable. However, I don't know if it's the side effect/ bug of porting L4D1 campaigns or not (some known bugs of L4D1 porting are like endless panic events or bugged mouse movement that can shoot but can't turn around), but this time, the special infected respawn time seems faster than usual, almost like "Hard Eight" mutation mode on every map. & somehow there are many oxygen tanks on certain maps, I don't know if it's intentional or a bug.
.
Map 1 is explorable. The guide arrows in the office are clear so just follow them & there's no problem.

Map 2 is rather long but the directions are clear so no worry. The challenge here is the witch. Somehow I met more witches here on my playing twice. There's a bugged door here in the locker room after lowering the container, which even special infected can't break it unless survivors open it first.

Map 3 is also long enough. The construction area is wide & explorable. There are some good camping spots there during defense. The parking area with containers is confusing a bit. There are two paths there: the normal one, & one for jumpers. However, bots can't follow the jumper path as their navigation is only on the normal path.

Map 4 is about walking on the road. Some areas are wide & explorable, but the paths are still clear.

Map 5 is also long enough. The park could be confusing a bit as it's wide & explorable. & the location for the finale is wide. There are many spots to camp, as well as objects that the tank can throw for fun. However, somehow, special infected can still come when survivors walk near the helipad even before turning on the radio.
.
So far, it's a good old campaign to play with bots or friends. It only requires more caution, as somehow special infected types spawn faster, & some areas are good spots for their hiding. I look forward to other ports about good L4D1 campaigns.

200 hours sure took lots of efforts to fix every bug. Now I start to imagine that the Cold Case & Cold Case: Forsaken sure would take much longer & more efforts to fix. I've also been waiting for those two, hopefully they can be finished soon.
.
& about the more frequent special infected spawn, when I played official campaigns to test & compare the special infected respawn time, this campaign had faster respawn time than the official campaigns did, so that's why I thought that maybe it was related to L4D1 campaign bugs when ported to L4D2. But it's still playable to the finale as long as players stay in group & stay cautious.

One of the things that were wrong with the original was that it had triggers but they weren't set up correctly. Now those triggers are tripped by the player walking around instead of being tripped by whatever. This campaign is working like it should have now. Took me about 200 hours to make it right LOL :). I've ran through it about ten times already and I'm not even bored yet LOL
File Details
L4D2deadindustryf...
(76.3 MB)
View Changelog
Version 2.7 Complete