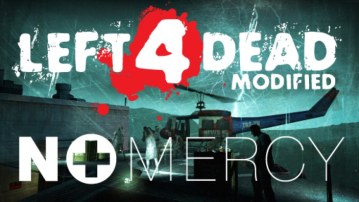 Left 4 Dead Modified: No Mercy
You are downloading as a guest.
The extended gallery contains images from all community members.
NOTE: I do not recommend playing this campaign on a 'Best Available Dedicated' server as some can be heavily modded and greatly interfere with gameplay.

Make your way to Mercy Hospital for a rooftop rescue. - Left 4 Dead objective



Welcome to the first campaign of my Left 4 Dead 1 Modified set, the original non-versus No Mercy from the first game, with L4D2 weapon/item/upgrade spawns, a few new features and improvements.

Features:

• Original map layouts (buildings and paths)
• Added thunder and lightning effects to the subway, sewers and the entire hospital level. (originally only on the apartment, hospital construction zone and rooftop)
• Increased density of rain particles
• New random intro scene
• New hospital grounds zone
• The Last Stand update L4D population
• Buffed Miniguns - they are now more accurate and deal a lot of damage, especially to Tanks!
• New L4D1 themed hint system for panic events and rescue activation
• Original L4D1 models (with HD textures)
• Falling through the elevator has been fixed
• Improved lighting
• Enabled wind on all exterior cables such as phonepoles (they're originally static)
• Timed hordes will always spawn ahead rather than behind
• More tweaks and tidbits I can't remember

NEW with 2022 update:

• L4D1 Common Infected sounds (will be added to my other campaigns soon)
• L4D1 Horde howl when activating panic events (will be added to my other campaigns soon)
• L4D1 Special Infected sounds, with some unused tracks added (will be added to my other campaigns soon)
• Tank music now randomly chooses between the regular and metal version
• Added background decoration of the previous and next levels
• Car alarms now use their own script, they are more dangerous. They can be activated from any distance and increase the common limit to 75 during the horde. Try to avoid them!
• Removed the cooldown for performing shoves, the penalty did not exist in L4D1
12/18/22
========

Fixed an overlay missing a brush face on '2: The Subway'

10/24/22

Review

Just updating my review here, I'm glad you brought the general changes you made to Dead Air here, makes it stand out more for sure compared to the official version. I support the idea of you taking more creative liberty if you need to divert from the source material somewhat to make it more interesting. Still feels basically the same otherwise as No Mercy, although the changes you made to the Hospital rooftops (not the finale) are pretty interesting, makes it a little bit less likely to get punched/charged off. The bots on the finale seem to rush to a spot under the chopper before it arrives if you're too close to it, so they'll usually die trying to get back up lol.

This review was posted before the latest release.
File Details
l4d1m_hospital.zip
(136.3 MB)
View Changelog
Version 3.1 Complete