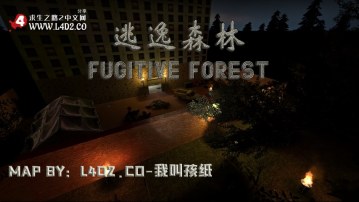 逃逸森林 Fugitive forest
You are downloading as a guest.
The extended gallery contains images from all community members.
幸存者们因为新冠肺炎隔离导致自己家的宝贝狗狗饿了,幸存者们需要前往办公楼里边的地下基地中找到狗粮,然后带走狗粮到达港口乘坐轮船逃逸森林...


整张地图难度较大,对玩家技术和经验方面都是非常大的考验,非常适合喜欢挑战的玩家,如果你喜欢挑战地图,这张地图非常适合你哦~
The survivors' baby dogs are hungry because of isolation from COVID-19. The survivors need to go to the underground base inside the office building to find dog food, and then take the dog food to the port to escape the forest by ship

The whole map is very difficult. It is a great test for players' technology and experience. It is very suitable for players who like challenges. If you like challenge map, this map is very suitable for you~
challenge
expert
landscape
05/28/22
========

No change notes have been added by the publisher.

05/28/22

Excruciating Map you need to avoid !! (you've been warned)

Terrible Campaign. I quit part way through 2nd map.
Map #1 
A) On easy you get a pistol and shotgun. No Med kits or other supplies were found. 
B) Infinite Hordes with absolutely no break.
C) Get inside the building and more infinite hordes but Specials start generating.
D) Climb down that long ladder and as soon as you look down the narrow corridor a tank is coming. So 1 dead Bot and all
     survivors beat up bad with 1 dead and 2 in red.

Map #2
A) Well at least we start off with some supplies. Pistol and Machine gun. 4 First Aid Kits. 
     Unfortunately the first aid kits are needed to heal survivors from the Map #1 beat down.
B) Leave the safe room and you have undead spawn behind you in the safe room so shut the door.
C) Same non stop Hordes. You get down the ladder and go around the wall walkway to another ladder.
    Go down and forward and a tank Spawns. Great now we're in trouble as hordes are pouring down the ladder behind us.
    Tank tosses 2 survivors over the side before he dies. Before I get around the next wall walkway guess what?
    If you said 2 more tanks coming up the ladder to meet you and more hordes coming down behind you you'd win.

I was so fed up with this nonsense I quit and deleted the map as a hopeless mess. Didn't even consider going to Map #3
or attempting Map #2 again. Maybe with a Molotov to burn the 2nd and third tanks I'd take a shot at it. Insufficient fire power
to deal with that many enemy targets at the same time.
I did pause the game just to look at the graphics. Nothing special just extremely basic walls etc.

Bottom line unless you're a glutton for punishment and a complete ********* I'd say it's a hard pass. Plenty of
very good and much more fun maps on this site. (Try Presaro 2 as it's good).
File Details
fugitive forest.vpk
(10.8 MB)
View Changelog
Version 1.0 Final