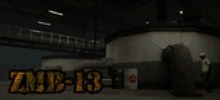 ZMB-13
You are downloading as a guest.
The extended gallery contains images from all community members.
You have been kept as human test subjects in an underground biological weapon research facility. A brief power failure has allowed a dangerous mutagen, code-named ZMB-13, to escape into the environment, turning everyone in the facility into the walking dead. Amazingly, your air filtration unit remained active during the blackout, sparing you from their fate. Now you must fight through the hordes to reach the surface and whatever rescue may await.



Update 7/11/2013 - Replaced the models that were removed from the game recently.
Creative and fun campaign.

I've played this campaign with my friends, it has only 3 chapters but chapter 2 and finale are really long but there has plenty of supplies in the campaign, especially throwables, players can use the molotovs in chapter 2 during panic events, or burn the tank at the last part.^^ In finale players must escape from facility, players can use pipe bombs and bile jars to attract zombies, which will make it easier to escape.^^ There also has some creative parts, such as player need to jump on the pipes to get to the next room in chapter 2, and the finale rescue is flying Jimmy Gibbs sports car, this is really surprising and interesting.XD The whole campaign have no glitches, and level design is really good.^^ Really a nice campaign.^^
File Details
View Changelog
Version 4 Complete