Reviews for Surrounded by the Dead II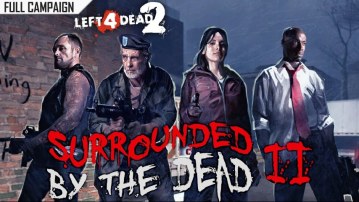 Great map

This map is great. I found no errors or missing sprites from the beginning to the finale. Bot navigation is ok. The finale is helpful to the survivors as there is a docked machine gun near the ammo pile & medkits. The boat is already there & all you need is to defend until the rescue time comes & the fence is opened. Good work.

This review was posted before the latest release.

Good, but nothing quite new

It is a solid 3 map campaign that makes predictable use of the city and small town assets.  The paths are pretty easy to follow, with a few out of the way places to explore.  There is nothing quite unique or standout in this campaign - feels like you've done all that before, save a nice set piece in waiting for a train to go by and a few custom car models.  There is one really strange building texture next to the train sequence that makes it look like it is done in glitter, and the radio for the finale is a bit hard to find.  The worst designed place is the finale location itself - doesn't make for exciting gameplay trapped in a narrow space with a turret.  But it is a well done affair with good details and flow: it just is not a memorable or standout affair.

This review was posted before the latest release.

Still Great and Long Campaign

PROS 

Poster
Well-made urban environments/map design and detail
Great items/weapons/ammo setting
Air-crash event (Dead Air motive)
Creative end of map 2
Hard than L4D1 version
Good bot's NAV and no NAv error 
No bugs/glitches

CONS

Still rescue boat came there
A bit easy

 



CONS

This review was posted before the latest release.

There's Detail Here

Me and my friends have played a lot of custom maps; and most of them just can't give this feel of "you're in a freaking zombie apocalypse". Even some of those that were in urban settings. The attention to detail on every chapter, the way the cars on the roads looked like there really were some chaotic things that happened there.

If I got any dislike for this map, it's the lack of variety of weapons. I only found a crowbar, night stick, and a baseball bat for melee.

4/5 - Just give this a try.

This review was posted before the latest release.

Review

Perfect campaign. Great map design, lots of supplies throughout chapters. No glitches/bugs. Amazing work.

This review was posted before the latest release.

Pros:

good gameplay

Cons:

nothing much

Conclusion:

a fun little campaign.

This review was posted before the latest release.

Pros:

Decent lighting (some times)
Good use of directional cues (spray paint arrows, safe house symbols, etc)
Branched paths, not super linear design
Exploration pockets
Good variety of pickups and health items

Cons:

Invisible collision in some areas
Infected jumping onto moving train is janky
Unfocused lighting (some times)
Default lightmaps make for no contrast or interesting shadows
Exploration pockets sometimes had nothing in them
No audio between survivors both ambient conversational stuff or directional leading audio
No landmark guiding me through mod
No context for why I'm in this city, why I'm going to the docks, etc
Finale was waaaaay underwelming, super safe, zombies only have 1 approach, mounted gun and waist high cover protects against chargers/smokers, VERY short run to vehicle once it's finished
Janky trying to start finale with bots. Nav mesh for bots to be "ready" doesn't extend far enough out, have to pull or push survivor bots into it (not an issue if playing with 4 human players)

Conclusion:

Despite the cons outweighing the pro's it's a decently created mod that follows the safe formula of most L4D mods. For that, most people will enjoy it I think. Unfortunately, it doesn't really stand out or do anything innovative so it will likely get lost in the sea of other mods that stick to the same formula.

This review was posted before the latest release.

Pros:

Is a short but well elaborated campaign (sometimes you want one for fun).
Lots of rooms to explore.
Balanced special infected and panic events/buttons.
Balanced supplies and weapons.
Nice atmosphere.
(Some) alternative pathways.

Cons:

I've got some pink textures (those sand barricades on picture 4).
We died once on map 2. When restarted, we were able to do at least half map with no zombies (differently than the first time)!

Conclusion:

Despite the Cons, is a cool campaign to play on Adv or Expert. I am keeping it! :)

This review was posted before the latest release.

Missing textures in sandbags? If you can send to me a screnshot... I never see missing textures there, is your game original?

This comment was posted before the latest release.

Pros:

Playable on SP.
Supplies adequate to good.
Interesting map - nicely laid out.
Right length and overall level of challenge.

Cons:

Last map can be tough on SP.
Finale spawns 4 plus tanks (not all at once) - plus a few too many special infected at the worst times.
Can be a pain in the a** at times.

Conclusion:

Overall I like the map and recommend it.  Interesting map layout and pathways - feels somewhat like crash course but longer, and more challenging in the end.  I'd give it a point higher, but the finale spawn too  many tanks,  plus a few too many special infected.  Hold on to your health kits and be in good shape in the finale.
Overall a good campaign - solid but not perfect.

This review was posted before the latest release.

Pros:

- Custom cars with custom sounds
- Directions
- Cut scene of driving 
- Creative events
- Detailed in some areas
- Bot navigation
- Classic L4d1 gameplay
- Plenty of places to explore
- Sufficient amount of closets
- Finale's radio




Cons:

- Levels can feel repeated 
- Not enough supplies
- Tanks spawn when trying to reach the rescue
- No dialogue
- Not many places to hold out in the finale
- Tank can get stuck behind objects

Conclusion:

This short campaign makes me feel like I was playing L4d1! Although a few things could be improved but i''ll give it an 8 mainly based on the unique cars and cut scene :P

This review was posted before the latest release.

Pros:

+L4D1 Survivors
+Custom Vehicle models
+Events that actually make sense
+We get to drive a Golf GTI with its own custom sound!
+No bugs


Cons:

-No Survivor Dialouge
-Lack of supplies
-No storyline
-Lack of supplies at the finale
-Short
-Events dont really come with a warning, which makes survivors plan on the spot
-Finale was really easy, the zombies come from one area

Conclusion:

A great map, but it could use a look over. Keep the custom vehicles though.

This review was posted before the latest release.

Pros:

+ Well designed
+ No bugs
+ Nice surroundings
+ Creative somehow
+ Finale was great
+ The atmosphere was typical L4D style, but not so gloomy
+ Good spread of medkits and all that stuff (was nearly dead, but finally I found one)
+ Fun

Cons:

- A bit too short (~50 minutes)
- The finale was a bit too easy aswell
- The finale didn't really make sense
- There could have been more supplies for my taste

Conclusion:

Summarizingly this is a great campaign. I really enjoyed it and didn't recognize any bugs or problems. Keep up that good work. Score '90' (changeable)
*RECOMMENDATION*

This review was posted before the latest release.

Pros:

- L4D1 Survivors
- Versatile environment
- No glitches or errors
- Feels nice and flowy and long enough
- Fun Crescendos
- Nice and open to explore
- Uncommon Infected

Cons:

- Could use some more supplies (Ammo, pills, throwables,...)
- Might I suggest putting the supplies in front of the last saferoom inside the actual saferoom? It looks weird all empty.
- The Finale should be larger and more open, it's kind of a bottle neck and dead end now, gets really tough.
- Also, Finale could use more supplies, like throwables, pills, adrenaline,...
- It doesn't really make sense that rescue is coming and the guy on the radio says that he's on his way when the boat's been there the whole time.

Conclusion:

A very fun campaign. I had fun exploring about a bit and taking different paths. Yes, the environment has been done before, but you manage to alter between city, apartments and others to make it feel flowy and fun to play. Lots of the Crescendos made me laugh, and I found them pretty well done. Just for fun you could make the survivors curse or swear when it happens, since it's sort of out of their control. Or just add some more Survivor dialogue as a whole, to make it all even more fun to replay. I had a hard time finding enough supplies, I did encounter the occasional molotov or FA kit, but only way into the second map. Nevertheless I pulled through quite alright, but it wouldn't hurt adding some more.

The biggest 'problem' is the Finale. Theres only an ammo dump, FA kits and some weapons. Perhaps try adding pills, bile, molotovs,... or perhaps I entirely missed them? The second thing is, it doesn't really make sense for someone over the radio to yell that he's coming when the boat's been there the whole time. It would make more sense to have a Scavenge finale, or just hide the boat until the time is right. :> Lastly, it's sort of a dead end for the Survivors, which can be a real pain on higher difficulties. There's only one direction from which the Infected can attack, but that also means it's a dead end for the Survivors, and the rescue vehicle happens to be a bit in between both camps. Try adding more pathways or making the finale area more open. To take other reviewer's critique into account, perhaps make the final map a tad shorter, because it is a long way back to the finale if you happen to die there.

All in all, I had lots of fun with this one. Don't let the cons wear you down, as most of them are nitpicking. The only thing I'd really suggest is changing the layout of the finale area. For the rest, a nice and flowy map with lots of fun events and exploration. Should you update the map and the finale I'll gladly test this again and alter my review. Thanks for sharing and good luck! :)

This review was posted before the latest release.

Pros:

L4D1 survivors
Finale is quite challenging once you try to "escape"
I liked the ideas behind the events
Car museum was nice to see
Driving away in a car to be in a safe room was neat
Using the boat as the escape vehicle... don't see much of it

Cons:

One or two maps longer would be nice
Getting onto the boat at finale can get really close

Conclusion:

No major complaints, just on the finale there can be some really close calls trying to get onto the boat.
I feel it's a really well done campaign, albeit a bit short... perhaps consider adding another map or two?
I liked how the boat is used as the escape vehicle... that, and the APC (Blood Harvest) aren't used much.

This review was posted before the latest release.

Pros:

-Decent city theme
-Okay layout
-Decent length

Cons:

-Boring finale

Conclusion:

I had fun on this campaign, but it was nothing memorable or spectacular. It's nice and short.

This review was posted before the latest release.

Pros:

-No Mercy l4d1 style (love it)
-Long maps but still 45 min long
-Lots of sidepaths and rooms to search
-Great layout and style

Cons:

-Car that you end with in the 2nd level, the track that it uses should have the settings so that it accelerates slowly rather than full speed instantly (cant remember the name of it)
-Needs more supplies so that its more random when the director selects the items to spawn
-Spinning car in car show gets very glitchy and weird when you stand on it

Conclusion:

-Great campaign, love it, just a couple things to work on like the car at the 2nd level and more items, then this campaign is all set and loaded with awesomesauce. Keep up the good work!

This review was posted before the latest release.

Pros:

nice and simple layout


Cons:

the safe room to the finale area is seems a bit too long
finale area need to be slightly bigger (explain below)
incap glitch

Conclusion:

To begin with, I would like to say that for custom maps I normally play on advance or expert mode with my group of die-hard l4d2 friends. The overall map is pretty pleasant to play with some small areas to explore. However, the finale map is slightly long to travel to if you happen to die in the finale and restart. For the finale, we tried on expert and try to run around the containers at the back where the ammo is. The entire finale area is a long stretch of road with only one entrance/exit. So when the 2 tanks spawned on after the 2nd horde, we were gg'ed. 

I tried running up the stairs but after we defeat the tank, the horde will prevent us from getting down to the rescue vehicle as their spawns are below. What might do is maybe create another path into and out of this finale and I believe it would be a great expert map! :) 
  

This review was posted before the latest release.

Pros:

Great city campaign

Nice visuals--no glitches or errors

Professional layout

Cons:

Generic feel

Occasional ugly textures

Conclusion:

Although this campaign suffers from pretty much nothing in terms of technical issues or uneven gameplay, I felt like I was playing a generic been-there-done-that package.  Regardless, the city feel was as authentic as possible, and it certainly kept me going.

The maps were nicely laid out and flowed well.  Good events and fair final.  There were some bizarre textures that seemed unnecessary.  

Overall, this seems more like a Crash Course bummer rather than a Dark Carnival innovation, but it's solid in itself, and should not be missed.

8.5/10

This review was posted before the latest release.
End of results.