This item has been archived for historic purposes. It may no longer work or function as intended.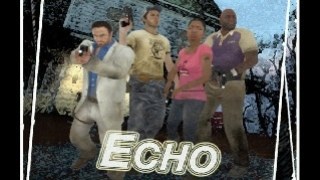 Echo Evac
You are downloading as a guest.
The extended gallery contains images from all community members.
Echo Evac is a 3 map campaign that picks up as a sequel to Blood Harvest (L4D1)
The campaign was first posted on L4Dmaps back in 2010
This campaign has had over 20k downloads before it was taken down due to lack of updates over the past few years.
I am placing this back on Gamemaps, for others to enjoy the hours of I've work

 done. The map had a broken ladder in the finale Hub map that would not allow the campaign to be finished. It also would crash due to no stringtable.dct filein any maps on modded servers when a 2nd, or 3rd player would join. These errors have been fixed. 

The story:

After reaching the Echo Station (Farmhouse) the players find the site has no signs of life and overrun by zombies. A radio broadcast has informed the players to head north to the CEDA outpost for transport. They are left with FEW resources to help them on their passage.

! ! ! This campaign is HARD (when set to easy to normal game play) and has anti-rushing components in place to slow game play. You will need to search for supplies and play as a team if you wish to survive. This Campaign was designed for a full group of 4 players (I have only made one change and that was to make it a solo campaign (nov. 2013)) ! ! !

There are many known issues:

Map 1: The info hint "Start the Pumps" continues to flash after the pumps are started
Map 2: Has lag issues at points
Map 3: in the vent: the fan no longer 'glows' and guns seen to do no damage to it...you may need a melee weapon to break the fan...?
To be able to end the Campaign ALL survivors need to be on the lift...other wise it fails
Some ladders do not work (due to when I decompiled it)
(there are other bugs...that should not change game play)

At this point there are no plans to change anything in the campaign, unless requested and time allows.
Many thanks for checking out Echo campaign!

Note...there are gnomes on each map that will unlock goodies if found
05/04/15
========
Fixed ladder problem in basement of building in map 3, The Hub, by placing a green dumpster there that allows survivors to get back up to 1st floor and proceed to finale event. Added stringtable.dct files to every map so it will not crash when other players join.
Extremely buggy, not enough items, not clear where to go

PROS
- Lots of areas to explore

CONS
- Glitchy textures constantly reappearing in map 2, spawning onto the player
- never clear where to go
- map difficulty on expert is unevenly balanced
- finale is way too long
- rescue point in finale is unclear
- 'start the pumps' keeps flashing the whole time in map 1
- no highlights on important items

Definitely a campaign to avoid. Unfortunately the dev seems aware of these issues and how much they affect player enjoyment but chooses to ignore and keep it the way it is.
File Details
View Changelog
Version 1.0 Complete