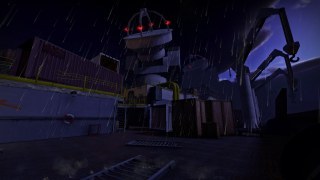 The Neverglades
You are downloading as a guest.
The extended gallery contains images from all community members.
Deep into the swampy unknown, the survivors come across a stranded, desolate ship... The S.S. Landbreaker, a research vessel that was struck with the infection on its return trip... With no one left to pilot... it eventually crashed and settled in the Everglades... Overtaken by the years alone...

But the power is still on?... Not only that, but there are sounds coming from

 the ship... They almost sound like a Voice!... With what seems like their last and only chance... The survivors board the vessel, for better or for worse...

---

Map is being made for "Swamp Contest"... Hosted by "L4D2 Mapping Contests" (Link in Changelog)

Contestants have been tasked to make a campaign of any length... With the sole theme of "Swamp"... One of the Most Underused themes we have considering the assets we possess... And with a restriction of only Two months... (Contest started in September 11, and ends in November 11)

***Anything in the "Linked Content" below are NOT required to play this map...
As anything linked below was made for the contest... and this is simply my way to try and ensure that everyone who entered gets a fair chance at being discovered...***

---

The map is completely based on "Icebreaker" from Killing Floor... (A.K.A. the best map in that game... ;3)

Campaign is planned as one map only, and is planned to have support for all four official modes... but Campaign and Versus will take front seat till either the end of the contest, or till I can call it a finished product... and work on full support for the other modes...

**Credits so far**
Technical Support...
-Computator

Scripting Help...
-Rectus

Testers...
-(No one at the moment... haven't finished it yet... XP)

Tools used and their creators
-"Propper" (used to make the metric tons of custom props for the map... i.e. stairs, pipes, and other various things here and there)
-"Shotgunefx's Path Recorder" by shotgunefx (used to make the intro and outro... Tis a great tool)

Various textures and props from...
-CS:Go
-Contagion
-NMRiH
-Portal 2
-And probably more that I am forgetting... I seriously have the assets of like 13 source games in my L4D2... So it is entirely possible for me to be using assests from another game without me even knowing till it is time to package the custom assets... 


Also... Special thanks to Rolfmahwafflz... for having the initiative I lacked, to start our community ran contest... 
And to anyone and everyone that participated... no matter how small...

Cheers... ;)
11/16/15
========

- Change the infected spawning during the first phase of the finale... it should be considerably easier now...
- Changed the floor texture to one without a reflection... which both lowered
Loved It

This is the best ship environment one can find in the world of L4D! The intro showed how great the lightning and color distribution are, but FPS was like 13 which caused some lags. The ship looked so real and I was really afraid that the way was so long that I will end up walking in the swamps as I do hate this environment especially when I know nothing about like where to go and what to do next. I managed to finish this chapter from the first time in 45 minutes on Single Expert Mode and I was really worried when I saw it was only 1 chapter which was also a finale because I took so long to reach the final spot and kept studying where to go and where to stop fighting hordes or where to move when tanks round come and I even discovered more rooms with health kits and ammo. It was a really big ship like a ghost ship :P I read all comments below and knew that there was a tough challenging finale, but for me it was all skipped for reasons I don't know and the chopper came by right after I started the finale and that spot was opened and the container was removed to make the way for me and bots to get on chopper. I experienced some navigation issues with bots like when they badly wanted the laser sight thing and kept jumping over the metal ledge to get to it. A tank was waiting in the beginning and was even startled, but never came to us. Thanks for the experience and sorry to find you retired from mapping. It's really sad to give up on such nice campaigns. Not the only map I encounter to see it unfinished in a way. As long was it was meant to be only 1 chapter and the finale is in the same chapter although it was mentioned that you began with the finale and there were another 2 chapters waiting, I see that 4 stars is a fair rating for such work...Good Luck!
File Details
the neverglades.zip
(157.9 MB)
View Changelog
Version 1.1 Beta