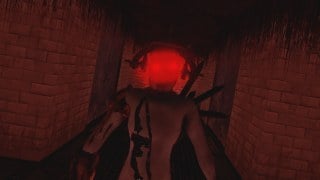 Haunting Grounds: Sawrunner
You are downloading as a guest.
The extended gallery contains images from all community members.
An exert from the past/future project "Haunting Grounds"... and the first of numerous souls you will have to vanquish in order to escape from purgatory...

If you find any bugs/problems/issues... Let me know... 
Always open to feedback....



--- 

So what is Haunting Grounds?...
Currently it is a single map campaign... featuring a boss fight... carefully crafted to be difficult, but far from unfair or impossible...

No infected... But the boss is no push-over either...
While the most damage it can possibly do in one attack it around 5~10... The boss is designed less as a DPS race against something that can instant-kill you... but rather an endurance run against something that can take a wave of bullets and still fight...

It is a fight of endurance... Your's VS Its... Can you best the Demon Mannequin?...

---

Quick QA...

Q: Haunting Grounds sounds familiar
A: It should... for those that were have been around for a while... this was the first project I publicly announced... back in 2010... Yeah... It has been that long...
It has alot been through 41 revisions as I continue to get better... and when you get better... your older stuff looks like shit... then BAM... you start from the beginning again...

Q: Why is there a teleporting mannequin?
A: Don't ask why... just shoot it...

Q: Is it too Hard!
A: That is not a question... But to answer it anyway...
This map was made and tested as a ONE PLAYER experience... the difficulty range isn't that different with 1 or 8 players...
it is by no means an easy map... but it is far from impossible... solo or not... you just need to pay attention to your surroundings... Do that, along with not being sparing with pills... and you can and will win...

Q: This sucks
A: ...I need to stop talking to myself... :\

---

Future changes...
Haunting Grounds is supposed to be a full on campaign... and there are supposed to be four bosses in total... I might do what I have done here for the rest of the bosses as well... 

No promises... but it is a possibility...

---

Credits

Various models, textures, and sounds
- Nightmare House 2
- Grey
- Saw: The Game

Testers
- Roflmahwafflz
- Camera Man...

Scripting help and Other kinds of Assistance
- TopHatWaffle
- Rectus
- shotgunefx

Music
Phase 1 Music 
"Battle Theme 1" By Jhoge04
Phase 2 Music
"Boss Battle Theme" By Jhoge04
Preparation Music
"Unexpected Sting" By AMAH
Boss reveal Music
"Scary Loop Sting" By caramusic
All music is from AudioMicro... link to each song will be in the change log...

Special thanks to all my fans... friends... and anyone that ever supported me...

And A Very Special "**** YOU" to a certain Fleshbyter... 
Never release the map EY!?! HAHAHAHAHA!...


That is all...
On my "To Do List" for this map/boss
-Make the Mask phase more enjoyable... While it has been complained about recently more than anything else... It was still always the "Make or Break" for everyone... 
-Make normal and giant saws ignore incapped players... so that way you can not get perma-downed due to bad luck...

Why yes... I do plan on making more "horrible" maps as you state... 
And while you are at it, here is my heart... please stab it some more...
File Details
hg_sawrunner.vpk
(72.9 MB)
View Changelog
Version 2.3 Complete