This item has been archived for historic purposes. It may no longer work or function as intended.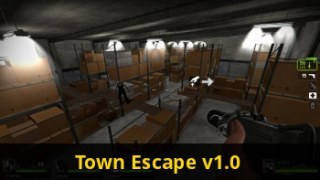 Town Escape v1.0
You are downloading as a guest.
The extended gallery contains images from all community members.
The survivors must escape a zombie infested town before the infection takes them over completely. Escape from this zombie infested town... or die trying!
02/19/17
========

4 map campaign.
Thank you. Enjoyed.

Played it on Single Player Expert Mode and it took like 2 hours and even less to finish it with ZERO restarts. I loved it. It presented L4D1 characters. Loved to start from an hotel, but still wondering how it is connected to a subway that leads to a factory. This is not logical in real life XD Plenty of supplies I found in each and every chapter. On chapter 2, I did love how open that town was and I am in love with urban environments in L4D world. We couldn't know where to go so it was almost the longest chapter for me and bots. Loved how we could go up those buildings and was surprised by that alarm that startled like 10 zombies and nothing else XD I could see the town from different corners. That chapter got plenty of bombs and was excited for that panic event waited for us by the end of the streets, but it let me down when no hordes came. Hordes even came in dozens along common incoming attacks, but along like 4 panic events in this campaign, the panic event started, but nothing happened and we walked
safely to safe room down there. It got some copied areas and parts from "No Mercy" Campaign and that made me miss that campaign in a way for the fact I didn't play that campaign in a while. It also presented some dialogues in the beginning which I loved. Chapter 3 was the shortest and it was inside a hospital. That elevator panic event didn't invite hordes again. The finale was nothing really and I was lucky I stepped out of that door before it got closed and moved up that building on the left and bots teleported to my side and thought it was gonna be tough run to helicopter or plane as it was stated although I saw that chapter name, which was "Truck Depot" . Once we stepped on those gas trucks, hordes couldn't get to us and I shot all those barrels to burn those hidden specials and common infected. Once I moved down, nothing happened, but only moved on to kill 4 specials and 3 zombies to find that truck waiting and I thought I would shoot those barrels on the car to make another way and run to Rescue, but
NO XD nothing exploded and I jumped on that truck waiting for the bugged Francis to join us. Hated to see no credits in the end about game statistics and how much time I spent and other stats. But saw a long list of names XD Did you forget and put the names of zombies we encountered along your campaign instead of the game common credits and statistics? XD you got 4 stars for all mentioned bugs of panic events and credits. Keep it up and hope to see more campaigns from you while trying all these campaigns on this website out. Good Luck!
File Details
towneescape_v1.vpk
(21.7 MB)
View Changelog
Version 1.0 Final