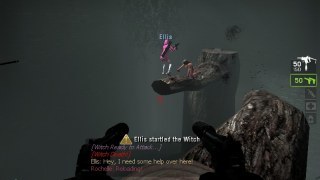 Survivor Bots On Their Own Feet Alternative (with Enhanced Special Infected)
You are downloading as a guest.
The extended gallery contains images from all community members.
This version is a request. Some people asked me to do something about the bot regen ability as that made the bots too OP so the play lost the survival horror sensation. So, in this version, I "nerfed" the bot regen & made them not that OP anymore. The nerfed features are the "Health Buffer Regen" & "Health Regen" as explained below:
- Health Buffer Regen now is activated only when bot's health & health buffer

 go down below 40 (I made this to make bots avoid getting limped & then slowing down the players by getting left behind farther & farther away due to slow limped walk).
- Health Regen now is activated only when the bot's health is below 10.
Other than those two, all features & abilities are still the same. I put the list of features & abilities in the changelog, to save space.
.
In short, this alternative version is to differentiate from the original version, so this one is more open for suggestions about nerfing or even removing certain features without reducing the bot's improved "intelligence". So, feel free to suggest some changes in this version :D .
.
Credits:
- Thanks to JeySieGee for the video
- Thanks to Rectus for CSS Weapon Unlocker & the custom weapon base template.
.
Notes:
- This mod works even in custom campaigns
- (10/12/20) Changed "Active Weapon Give and Take" to "Item Give and Take".
- (10/22/20) Added a new bot ability: Bot Emergency Warp. They'll soon warp at player's location when a tank or witch is close enough to them.
- (11/06/20) Added a new ability: Bot Emergency Rescue. Bots can immediately help other survivors from special infected.
- (11/08/20) Added a new toggle ability: "Rise From Fall". Survivor hanging from the ledge will immediately climb up without help.
- (11/11/20) Enhanced the special infected ability, like for example, the "Nuclear Tank".
- (11/13/20) Modified the "Enhanced Special Infected" into toggle mode. Added "Survivor's Damage Counter" too. The list of toggle cvar commands is in the Changelog.
- (11/16/20) Fixed errors on the console.
- (11/17/20) Added "Gravity Control" on "Bot Emergency Rescue" ability.
- (12/03/20) Added "Zombie Mind Control" ability. Made the tank transform into Nuclear Tank if he's burned. "Nerfed" the nuclear explosion damage, but it's still dangerous.
- (12/06/20) Upgraded bots with "Battle State" mode, making them have enhanced aim ability on special infected. See the Changelog for details.
12/06/20
========

- Upgraded survivor bots with "Battle State" mode (prototype). It's prototype, because there might be some errors on console (though last time I tested before uploading, it looked fine). This ability is simply an enhanced aim on special
Well if it didn't work just scratch the idea this one is perfect anyway.

This comment was posted before the latest release.

It's possible to make only special infected bots get on fire while special infected players don't. But probably I'll need to do some experiments first to make it work perfectly. I'll let you know when it's successful.

This comment was posted before the latest release.
File Details
survivor bots on ...
(20.1 KB)
View Changelog
Version 3.5 Complete