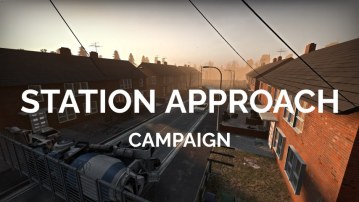 Station Approach
You are downloading as a guest.
The extended gallery contains images from all community members.
WIP MAP 1 OF 2

Map can also be found on the Steam Workshop under the title 'Station Approach'

After surviving the initial outbreak, 4 survivors find themselves in the outskirts

 of Greater London. With rumours that there is a safe haven only accessible by train, they must go on a journey from the residential area to the main street in order to reach the station.

About:
Based on the style of l4d2's 'Last Stand', this is to be a long 2 map campaign. This is the first map, with the finale coming some time in the future. It currently features:
- 15-20 minute long map
- 3 distinct environments
- 2 panic and 1 crescendo events
- Custom model
- Secret (somewhere in the first street)

Notes:
- The crescendo event has incorrect text. (I may try to fix this in the future?)
- Crescendo event 'Turn alarm off' notification doesn't display until players progress through the level a little bit more.
- Players must exit the game through quitting to the main menu once the checkpoint has been reached until a Finale map is added.
- Some parts of the map may result in dropped frames, comment/ dm me if its an issue and ill try to fix it.
- Same potential issue with the Navmesh, comment/ dm and ill try to fix.
- If the survivor bots arnt following you, slow down/ go back a little and it will work.
- If windows disappear and there are holes in the buildings, setting your 'Effect Detail' to high fixes this.
- Lighting is bad at some parts in the map, these arnt fixable unless i re-do the sections, this is my first map go easy on me, ive learnt my lesson :(

Thanks to:
- Adam "Supernorn" Riches - L4d poster template
- TopHATTwaffle - Hammer tutorials
- 3kliksphilip - Hammer tutorials
- r/Hammer - General help
- Valve Developer Community - General help
- WorldofLevelDesign - Tutorials
- Lonely Degenerates discord

Feel free to comment, rate and critique! All feedback welcome :)
04/08/21
========

First map is complete and fully playable
Review

Great map design overall, I'd block off a few areas (like the rooftop near the end) and that's about all I'd change, no other issues found surprisingly, looking forward to future versions, keep it up!
File Details
stationapproach.vpk
(32.2 MB)
View Changelog
Version 1.0 Complete