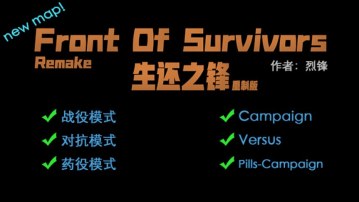 fos_remake(生还之锋重制版)v6
You are downloading as a guest.
The extended gallery contains images from all community members.
map codes:

fosre01_maomaohill
fosre02_fftown
fosre03_factory
fosre04_moors


fosre05_92farm
---------------------------------
---------------------------------
The new <fos> that can coexist with the old one. Update points and features see the introduction:
Video introduction:
---------------------------------
---------------------------------
Text introduction:
The overall adjustment:
1. All levels support campaign, versus, and pills-campaign(***) modes.
2, the number of tanks in medicine service and Counter mode was fixed to 1, finale to 2
3. AD textures for all levels have been reconfigured
4. Added a lot of Easter eggs and hidden content
5. Modified the level code and mission content to coexist with the old version
6. Adjusted HDR compilation and VIS optimization to improve light and shadow rendering and reduce flicker probability

Campaign adjustments:
M2: The right side of the building is open, and the path can be selected one by three.
	No longer need to use howitzers to bomb closed iron doors. Changed to require interaction, placement and destruction of gas tanks.
M3: The detour part of the opening has been modified;
	The lifting platform is changed to a solid entity, which greatly improves the fluency. After testing, there will be no "sudden death" caused by "model extrusion".
	Thanks to the author of <Hazing> @ty for technical assistance;
M4: the downhill behind the truck, designed to be difficult to retreat in the face of confrontation;
	The large warehouse has been reset. It needs to open the mechanism and face 1 tank.
M5: Map flow has been reconfigured to defend instead of sprint to save;
	Rescue point has plenty of defensive points and supplies available.

Special adjustments for ***/VERSUS:
M2: the gas station can be opened directly;
	There's a special attack passage on the right in front of the elevator.
M3: lifting platform requires all people to assemble to open the TP, jump over the lifting platform to reach the bottom;
	Waterway part does not need to launch, open the shortcut.
M4: Adjust the gas to 1.
Review

I enjoyed playing this campaign, even though I know it's not for everyone as this campaign features a LOT of horde slaying, lots of tanks and lots of running, but I will say it is fairly balanced and I didn't feel like it was unfair at any point. The finale; funnily enough was actually the easiest chapter due to the bad navmesh, go figure. Navmesh was pretty meh throughout the campaign, I had to wait for the bots to catch up a few times, and they'd often teleport, but honestly not terrible, it was fine. So moral of the story: if you're looking for a chill experience and take your time, I'd probably skip this one if I were you, but if you enjoy the madness, have fun.
File Details
fos_remakeV6.zip
(279.4 MB)
View Changelog
Version 6.0 Final