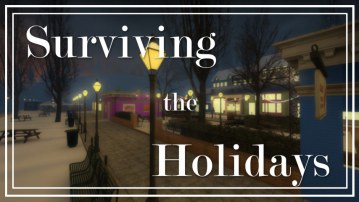 Surviving the Holidays
You are downloading as a guest.
The extended gallery contains images from all community members.
It's the most wonderful time of the year, unless you're in a zombie apocalypse, and it's snowing. Well, it's Christmas Eve and the zombie horde has descended on the Township of Cape Anne, and sure enough, it's snowing. Our survivors find themselves cornered, with the ocean on one side and a ravenous sea of zombies on the other. The holidays can be tough for anyone; can you survive?




This campaign is designed to support all the primary game modes (coop,versus,survival,etc.). This campaign might not run well on less powerful machines. I did my best to optimize it, but there was only so much I could do without starting over. If the map crashes to desktop with a "No Free Edicts" warning, try disabling your other mods. This map ended up being very demanding of server edicts and it seems like some mods will crash it. 

I started making this for the 2020 Christmas Season and it's taken me a whole year to get it done. It turned out to be way bigger, way more complicated than I intended when I started. In the process of making it work I broke just about every limit on the game engine and had to do some hacky work-arounds to make it work. I know it's got a couple of problems. For some reason the campaign always records one extra death and I don't know why (if you do, please leave a comment and let me know). If you run into any, let me know, but it may take me a bit to patch them, it takes most of a day just to compile (let alone debug and test) and honestly I need a bit of a break, but I did want to get this out before Christmas. Hopefully it won't crash.

So, whatever you celebrate have a great one, and here's my gift to you.  
Thanks, and Happy Holidays!

Jon

PS: if there's a lot of interest in a low-impact version (ie, fewer zombies, no sprites, etc.) let me know in the comments. If I can find some time I'll see what I can do.

Also, if you are a map-maker and would like to use my designs or custom assets from this campaign in your own project, please feel free to do so. Attribution would be appreciated, but not requi
12/23/21
========

Update because the developer goofed and forgot to include the materials in the last update.


Review

Idk if it's a problem on my end (idk why it would be) the map is broken, there's missing textures everywhere, wireframe, and the game just crashes after travelling a bit in the campaign, needs to be fixed, or if you know of a solution let me know, as nobody else seems to be having this issue.
File Details
l4d2_holidays.vpk
(190.1 MB)
View Changelog
Version 3.3 Complete