Reviews for Road To F18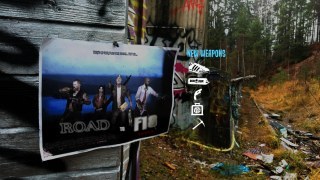 Thank you, Finished in 4hrs, 10min & 6 Restarts on Expert Single Player Mode

Checkout my complete walk-through for this campaign through the link below:

h\t\t\ps://youtube.c\o\m/playlist?list=PLOFtKLS6rEvl1gn1kdDllKnaoMpFx6U67

Copy the URL, Remove \ from (h\t\t\ps) & (c\o\m) & Press Enter
-----------------------------------------------------------------------------------------------
Ch1: It was restarted twice and I found 3 out of the 5 special features added to your great map. I found the pick-axe, deployed supplies kit & the purple bombs that ran out after a while. I read those comments about absence of kits, but I always considered it a challenge and it was good for me, except for some spots where hordes spawned from thin air. 
-----------------------------------------------------------------------------------------------
Ch2: Actually, it was restarted once, but due to the fact that the game crashed for no reason and I was kicked out of the game, I had to restart from the beginning and I managed to finish it then. The game crashed by the gas station after the second panic event (van). I had to go through 3 panic events and a long chapter, but it's nothing as long as supplies are there as well as balanced hordes and bots acted well.
-----------------------------------------------------------------------------------------------
Ch3: It was completed with 0 Restarts regardless of the fact that it was the longest after ch4. It was the first time to encounter the flare gun and that was really really cool feature. The funny thing was the bumper cars with alarm X) WTF! lol
-----------------------------------------------------------------------------------------------
Ch4: It was the longest and technically the hardest, but it was not a big deal. It was restarted 3 times and 2/3 restarts were out of pretty bad luck. My video of that chapter will tell you how I restarted 2/3 restarts for that chapter. It showed 2 new features, which are actually 2 new panic events of the lawnmower and the pass code. My frame rate got screwed by that area with M60 before we move to the open wide area and it was also screwed when I got into that small room with 1 gas can or where the witch existed, but I could handle it. 
-----------------------------------------------------------------------------------------------
Ch5: It was restarted twice although I don't think it really deserves to be restarted at all, but sometimes one gets really noob and a little bit unlucky :) New finale feature is introduced and I got so much space to fight. Yet, bots showed bad performance at some spots. I encountered the last added feature of those sneakers that gave speed boost or adrenaline, but I didn't use it. Still, really cool. 
---------------------------------------------
I shall thank you for bringing such work to us and it's 1000% original with its music of horde incoming that I danced reacting to with my mouse :D with those 5 features added to this campaign as well as those special panic events like lawnmower, pass code and finale exploding rocks and refilling the plane. This all was really good and I am looking to play all your works if there are any more out there, but just on time :) I played your map 2 months ago and stopped playing any more custom maps since then, but yes, I am back to play more and upload to my channel. 

1 star is off for the bug on ch2 that kicked me out of the game as it messed up with my game statistics that I give all focus to.

Thank you and keep it up.

Could use a lot of work and better balance

This campaign needs FAR more set ammo piles, ACTUAL health kits in chapter 1 and in saferooms, ACTUAL weapons in saferooms, tho some do  but others dont(ch 4 didnt), finale had t1s which is stupid. chapter 3 i think it was, goinging down the hill down to the van event, it was WAYYY too much horde and it wasnt fun at all, also commons should not spawn on top of you, thats horrible design. It is a good start and it would be cool to see balance fixes and spawn fixes.

Fun but needs work

Good
   Custom environments,weapons & supplies.
   Music that fits the atmosphere
   Different events during the maps was a nice touch,it's good to see stuff mixed in,instead of just run there,grab this etc.

Bad

Big open areas with confusing paths to the cans was a bit disorientating.
The near constant hordes really slowed down progression,it gets tedious especially the part where you need to grab the cans for the lawnmower or the explosives at the finale.
As much as I liked messing around with the custom weapons,they seemed useless & the bots end up hurting themselves.
Limited melee kind of made it more challenging,I'd prefer if there were melee weapons that didn't have limited uses.
The large number of tanks on some maps,4-5 Tanks when you need to enter the code to open the saferoom door felt unbalanced,there wasn't that many mollies around to deal with them.

Weird glitch on map 4 where after i closed the door the next map spawned me outside the saferoom on the wrong side,I was able to walk around but it ended up teleporting me inside the saferoom on map 5.

I enjoyed playing this with bots on normal/realism,I feel it needs some polish but I can tell you put a lot of effort into this map. 

Also the code for the door,does it change or stay the same? First time it was 4746,I tried that again but nothing happened.

I think the code was random, i got 0118, i shoot the thing like black plate, n the code revealed

I forgot to ask,but where are the hints for the code to the door? i just hit random numbers until the code on the building showed up.

The code probably changes. I ever compared the code from the playthrough on youtube & my play, & when I put the same number as the one on youtube, nothing worked, & I had to check the code manually again

Thanks for the work

You have spent 1 year on level development. 
And the players put you 2. I think this is not fair. This map deserves the best ratings.

Good but lacks melee & supplies on certain saferoom

Actually the campaign is good. I could enjoy & sense the thrill because where the horde would come was unpredictable, as well as the SI. One of the main problems is the melee weapons. To defend from horde on open area just with pistol is kind of difficult. Actually it's easy to fix this unavailable melee bug - just delete the "meleeweapons" line on the "roadtof18.txt" inside "missions" folder. The other problem is on map 4. After several tries, I figured out that the way to unlock the code is to press E on the arrows painting on the wall but then horde will come afterwards, along with SI. On the 3rd try, somehow when I entered the correct code, there came twin tanks, followed by other two more after the twins died. After I killed them all, there came two "invisible" tanks. I could only see rocks flying but no tanks appeared - only growling voices.
.
On finale, the map is really wide. Even after I turned the instructions on, I had no idea of how to trigger the finale event. I checked both the plane & fuel tank but there was no button to push. After roaming twice, I used my trick to stick to the wall & found the location of the radio at abandoned camp at the corner of the map. During the objective to destroy rocks, somehow the map got rather lagging with fps drop, but after the rocks were destroyed, the fps was back to normal.
.
On certain maps, like map 3 & 4, there are no medkits inside saferoom. & when I started from map 4 after an unexpected crash due to a fps drop when staying too long on the grass near the caravan.
.
Aside of those drawbacks, this campaign is working & fun. There's no bot navigation error & I found no missing texture during my play. I hope that the melee weapons will be enabled on the next update, & medkits will be added on some saferooms

This review was posted before the latest release.

good review.  I agree with everything you said.....

Solid Campaign, with plenty of unique elements.

Not sure what's up with the overly negative comments and reviews. This campaign isn't half as bad as some make it out to be. Not perfect. But absolutely above average.


Pros:
-Unique environments and overall great atmosphere.
-Sufficient supplies, spread out nicely.
-Difficulty feels just right.
-Good directions and mostly great level design.
-A couple of unique events.
-No Performance issues since the last update. @bazrael I also have a gtx 970 and it runs absolutely fine. Besides, the CPU is most likely the bottleneck in l4d anyway. 
Regardless, no issues in any chapter on my end in terms of fps.


Cons:
-3rd chapter is a little too dark at times and can be frustrating with the many car alarms. Also, some props make little sense, for example the bumper cars. Which are alarmed btw. lmao 
-3rd chapter saferoom could use a couple supplies. At least an ammo pile would be nice.
-The finale is long and tedious. You have to run around a lot because of the spread out objectives. I get that runways are supposed to be huge, but in terms of gameplay it's mostly just annoying.
-The finale has a weird bug which prevents bot survivors from respawning, should you not make it on the first try. Rescue closets don't help on realism either unfortunately . 


Conclusion:
Overall definately worth a playthrough. The lack of melees is a positive aspect to me, or rather I haven't noticed it. I play all maps with a no melees config because I feel like commons are otherwise a joke. I think it's great someone decided to leave them out of a campaign. Be it by an accident or on purpose.
Big thanks to the author for making this. It's a fun map a deserves some recognition.

This review was posted before the latest release.

I have played this 12 times.  It does have some issues.  I took a break from this game and I have downloaded again just now.  We will see.

This comment was posted before the latest release.

Thank you for your review!

This comment was posted before the latest release.

No melee weapons is inexcusable.  I can ninja sword my way through the hordes but using my pistols is just...sux.

This comment was posted before the latest release.

Doubtful that you even played it. There was plenty of ammunition, special ammo, an throwables scattered throughout. If you took a bit of time and looked it was there. I've played it twice now. Melee weapons were not pressent. However by using two pistols I could easily handle the hordes and save my main weapon ammo for specials.

This comment was posted before the latest release.

Competent, but not a keeper for me

The pathways are relatively intuitive and the structures look a little better than the average customs, but I felt this campaign is far from the top-tier customs and the stock maps.  It falls victim to some of the common issues that a lot of customs have: too many alarm and trigger events, too many hordes, too rapid special infected spawning, linear paths, copy and paste sections and bland areas.  For me, making hordes and SI constantly spam you is more tedious than fun, and ruins the natural pace of the game that makes it great: action, then time to breathe.  And when there is a pause (a very brief pause in the hordes), there is not many interesting details to admire.
So the campaign shows enough competence to not be a total trainwreck, but it is very far from the quality that makes it a campaign that I would return to.

This review was posted before the latest release.

Great Maps, But....

got to the last level and the map did not work.  Level 2 and 3 were a little too dark for me, sorry.  Also, there are way too many chargers and walkers and others.  The walkers are spawning way too much, just give a much to relax in between and enjoy your levels and enjoy the maps you designed.  I gave it 5 stars for being original and great looking environments.  I last thing on the last map.  I say error signs near the plane before the map crashed on me.  Looking for an update on this.  Thankyou for playing this.

This review was posted before the latest release.

update is done and uploaded!

This comment was posted before the latest release.

good map

I liked the landscape. It is necessary to work out the caves in detail, cars with alarms do not look appropriate there.It is also not clear why you created a lawnmower that mows the grass. After all, the grass does not create a barrier to the player and it looks silly.

This review was posted before the latest release.
End of results.