Reviews for Die Screaming II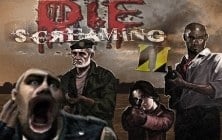 Good Campaign.

I really liked this campaign. only 2 issues i faced which were just with the Bots. The first problem is that the Bots don't all enter the safe rooms, one and the other don't and I had to leave and enter several times for them to finally enter. The second problem is when crossing the boards between one building and another one or two bots always fall. I used the "Advanced Bots" mod to play again and it improved bot navigation by 95%. For the rest, congratulations on the campaign.

Good campaign but with few bot nav errors

The campaign actually works well to the finale. The main problem is the bot navigation. For example, on the map 1, bots don't pick medkits no matter how players push them near the medkits. In map "rooftop", the bot has a terrible bot navigation when survivors have to jump to lower floors through the holes at the center of the floors. Because of that, one bot hanged on ledge then fell to death because other bots & I already jumped down few floors below (well, that's just like this campaign's title though. The bot screamed to death when falling :D ). The finale map is very wide & fully explorable, & in open area. But I think it's fine because the bot navigation is fine on the finale & the rescue vehicle is highlighted so it's easier to find on that wide area.
.
In overalls, it's a good campaign. Just keep watching over the bots if you play with bots, especially on map "rooftop". I'll keep this to play with friends later :) .

This review was posted before the latest release.

We'll cut it some slack for its age

Build, lighting, flow, balance is okay. It even seems to be easier in the first maps, culminating into the somewhat teeth-grinding finale. Low visibility, scattered supplies, two Tanks, pathetic bots (not exclusive to this campaign, though), and a military loop plays on forever (in addition, the escape vehicle is as far from "military" as possible). Some maps feel very short, areas seem to be repetitive (mainly stairs), panic events are alright, bots tend to fall to their deaths near those claustrophobic fire staircases. In the end, it's so "okay" it's average.

This review was posted before the latest release.

Die Screaming II

Pros
-enough supplies
-difficulty ramps up gradually but is manageable
-very few bugs
-a good a amount of detail
-believable immersive environments


Cons
-broken window areaportal in map 2
-door into nothingness (I think towards the end of map 3 or 4...)
-a few minor nav issues (survivor bot suicided off the long ladder on Rooftops, and a tank got stuck in the rocks in the finale).
-some nav areas don't seem to be "clearable" when they should be - ie. infected are spawning improbably close in areas that have already cleared of all infected.  I think this is part of what makes this campaign harder than average.
-difficulty perhaps a bit too hard for inexperienced players.


General thoughts
In my experience, the difficulty definitely ramps up as you progress.  The first map is very manageable once you find those tier 1 weapons.  The second map isn't too hard.  The rooftops were a lot more challenging, with one bot being punched off the map, one falling down the ladder when I went back to the rescue closet and one being killed by a witch (two witches and a tank for me on this map).  The 4th map is brutal - it didn't help that there was a witch in the middle of the "run through the horde" part.  I was one survivor bot with 2hp away from not making this map.  The finale is reasonably difficult too, mainly because of the low supply density and the wave with multiple tanks.

I do like the fact that the difficulty gradually builds up and gets harder - it's not something you see very often in custom maps.

This review was posted before the latest release.

Thanks for playing our campaign... and you got to enjoy on of your custom Zoey models in it!

This comment was posted before the latest release.

In last version windows and door problem was fixed. About nav, "clearable" not exist in Left 4 Dead because by default all areas are clearable. You can specify not_clearable areas to simulate this effect that you mentioned.

This comment was posted before the latest release.

Review

Perfect campaign. Great map design. No glitches/bugs. No botnav errors. Plenty of supplies. Great work.

This review was posted before the latest release.

This comment was posted before the latest release.

Really died screaming at some parts

Completed in expert realism with friends, so it's based on the impression of the gameplay in expert realism mode. No clues about bots navigation.
Died at some parts and really felt like screaming, especially fighting tank at the rooftop and fell down from the rooftop without hanging on there (maybe it's just me lol). Map itself is quite balance and I really like the 4th map train station gauntlet crescendo, felt very realistic and it's memorable, just remember that the gantry was kinda hard to pass through if you jump. Finale felt really like hard rain but with no high ground to camp and it's pretty wide open, quite interesting. On the second try though we realized we could camp inside the saferoom, so it instantly became saferoom finale ._. The challenge would become fighting the second wave of tanks and get back to the truck in time with all the mobs chasing around you in a stormy condition.

This review was posted before the latest release.

Good Job

PROS
Changing atmospheres
Layouts in Maps 2-4 are really good
Events are tough, usually with very little cover
Tough witch placement

CONS
In Map 2, a bot got stuck climbing over the washing machines, and never teleported to me, even when I reached the saferoom.
Finale is a pretty bland layout and the recording never stops playing.
Dropping down all those levels is a pain in the ass, and bots can have trouble with it

CONCLUSION
Aside from the finale, the maps are very well done and fun to play through. Only issue was a bot getting stuck to close to the saferoom to teleport, so I had to exit and restart at Map 3 and lose all my supplies. Maps 2-4 in particular are long and challenging, which made the finale so much of a letdown. It's all very gray, and unless you want to be cheap and camp in the starting saferoom, there is even less cover. On top of that, you're subjected to the finale start recording throughout the whole time, and it's so loud, it was able to mask the tank music until he was on us.

Review Updated: 3/2016
Version: 11.0

This review was posted before the latest release.

Pros:

- Nice poster
- Easy to follow
- Detailed
- Decent bot navigation
- Have to conserve ammo
- Scattered supplies
- Challenging

Cons:

- Pointless, boring intro
- Map 1 is too short
- Tank + horde is too difficult in map 4's event
- Finale's radio's voices double over each other

Conclusion:

Decent campaign with a few issues but nothing major.

This review was posted before the latest release.

Pros:

+ L4D1 survivors
+ Nice details
+ Nice stormy weather in the finale
+ Adequate amount of supplies
+ Bots Navigation alright
+ No bugs nor glitches
+ Loves the zombie hordes event
+ Loves the train riding 

Cons:

- Map 1 very short
- Map 3 difficult to jump down including bots
- Finale radio double voices non stop



Conclusion:

Overall : Challenging, interesting, fun and playable

I personally recommend this if you got no new maps to conquer can try this one, worth downloading

This review was posted before the latest release.

Pros:

Interesting maps - twist and turns in the path.
Urban - inside and outside, plus rooftops.
LFD1 survivors.
Always offers a challenge somewhere.
Playable - no game-stopping bugs or inadequate supply distribution.
Last map "safe truck" (pickup) makes it playable.

Cons:

Map 1 is too short; plus one bot always fails to pick up med kit at start.
Map 3 ladders and descent through rooftop holes can be a bit tricky at times.
Some bugs in map - on train, and with tanks getting fatally stuck on occasion.
Last map "safe truck" can make it too easy.

Conclusion:

This is a pretty fun map, the few bugs don't make it unplayable. On the finale I used to get killed quite a bit until I read another reviewers account of the "safe pickup truck" at the end.  It is fairly safe - from special infected - only common and tanks seem to get at you there.  Overall this map can be challenging, but playable, and I've always found it interesting.  Not much story line, but overall goo work it seems.

This review was posted before the latest release.

Pros:

======= In General =======
+ Nice lengthy campaign.
+ A lot of hordes, but not too many.
+ Acceptable difficulty.
+ Finale area seemed to be suiting.
+ More than enough hints.
+ Supplies, partly hidden.

Cons:

======= Map 1 =======
- Very short.
===================

======= Map 3 =======
- AI mates had a lot of Problem getting down there, me as well for instance.
===================

======= Map 4 =======
- AI mates had a lot of Problems crashing through the hordes to the train.
- Horde Panic Event was actually just exaggerated.
===================

======= Map 5 (finale) =======
- Double Radio voices.
- After starting the final event, Radio Speaker didn't stop talking.
- AI Navigation issues, at least partly.
=======================

======= Miscellaneaous =======
- Partly bland gameplay.
- AI NAV issues in some places mentioned above.
========================

Conclusion:

Not a bad campaign, but it would Need some more fixing. Cons should express everything as it is, for help ask me.
7.6 out of 10 Point given for this, changed if campaign got updated.

This review was posted before the latest release.

Pros:

relatively glitchless
bots arent too dumb
train level was pretty cool

Cons:

finale was too quick and easy
too short
very bland and unoriginal
repetitive and got boring quick
too many witches
too many first aid kits, not enough ammo


Conclusion:

Overall, i didn't like this campaign. the crescendos where mostly unoriginal and recycled, the finale was boring and simple, and scenery was terribly repetitive. the train was kinda cool but it was a bit buggy. I also didn't fancy the saferooms too much, the truck ones didnt really feel like vehicles, more like a box that magically teleports. overall i see no reason to replay this map; i could get the same stuff from one of valves maps. custom campaigns where made for ingenuity, creativity, and to make something different from what you've already seen; This map just feels like a recycle of death toll. 

This review was posted before the latest release.

Pros:

good detail and view
bots can play in here

Cons:

in the end map , survivor should be can take inside the car. because if one of the survivor pindown (not die) tank /zombie will hit another survivor which already near the car.

Conclusion:

make the car in end map can enter by survivor 

This review was posted before the latest release.

Pros:

-Decent design and design
-Long and interesting
-Fun finale
-Good flow

Cons:

-Somewhat bland
-Theme is uninspired

Conclusion:

Die Screaming is sometimes fun, sometimes okay, and sometimes boring. It's decent, and wouldn't hurt to play it.

This review was posted before the latest release.

Pros:

Very fun to play
Good balance between spacial infected/tanks/normal infected
Good lenght
Love the graveyard

Cons:

Finale is little bit too hard to play with two player+2bots
No hint where rescue arrives at last map
No special ammo
Finale arena was little bit too big
Safe house in finale: just stay there and soot everything until rescue comes
Train was buggy

Conclusion:

This is very good campaing. It was nice and fun to play. 

The finale was little bit problem. It was little bit too hard compared other maps in this campaing. It took 2,5h to play all other maps than finale, and finale took over 2h and still didnt get thru it. Mostly because rescue arrives, but we have no idea where it is, so we run and run till we died. Thats not so fun. 
Maybe some hint where rescue is and more fuelcanisters.

So little bit work with finale, and this campang is one of the best.

PS. I dont know what version I played, so some of these may be fixed


This review was posted before the latest release.

Pros:

Another great port.

L4D1 survivors.

A classic look and feel was maintained.

Improved on the train panic event.

Hard Rain storm on finale map.

Cons:

I believe the survival map needs it's NAV tweaked.

The train map has something missing when you go down the stairs and look up after the event just before you reach the train.

If you melee or chainsaw the train doors you can go out and instantly die.

The red error just before the ending safe room on that other map I showed you... I guess it's some German radio model.

Conclusion:

Ah, our little baby. Forever grateful you ported it, and that "Soup" was cool with that.
Just those few minor issues to sort out and I think it'd be perfect.

This review was posted before the latest release.

Pros:

Great just like the 1.
No probs with the bots. (Except one thing)
No texture error.
The rain is a nice idea.

Cons:

The witch could not move once startled at the small bridge in the 3rd map.
In the 1st map the bots doesnt want to get there first aid but hopefully the map is short.

Conclusion:

Good map and small cons that doesnt bother people much. Keep this up!

This review was posted before the latest release.

Pros:

- Excelent gameplay and difficulty
- Great environments and a great finale with storm and dark atmosphere

Cons:

- Level 1 is too short

Conclusion:

This is a great port of a Left 4 Dead 1 campaign!
This campaign meets the need to play Left 4 Dead 1 campaigns!

This review was posted before the latest release.

Pros:

-Great environments! 

-Interesting play paths

Cons:

-Major Finally exploit with sitting inside the "safe truck", too easy even on expert.

-Some spawn closet didn't quite make much since in structure and look.

-Some parts are too bare, need more details and navigational obstacles.

Conclusion:

Even if it's deemed "complete", still feels like a beta and has alot of flawed game mechanics. Especially in the finally with the sorely obvious exploit.

Not to say it's a bad campaign, but it could use quite a bit of polishing and refining before this ranks it along side the more popular camps. Hope you come back to it and perfect it!

This review was posted before the latest release.
End of results.