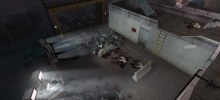 [SURVIVAL] CEDA [SURVIVAL]
You are downloading as a guest.
The extended gallery contains images from all community members.
Hungry for more screenshots? Want them in HD? Go to bit.ly/1xAty4k

When a military outpost in the centre of philadelphia opens up for evacs it sounds too good to be true... It is. They arrive to find everyone gunned down and the staff dead. They choose to stay and use all the traps and technologies available to them...but how long will they survive?



Features:

-Huge survival map spanning 3000 units from the highest to lowest walkable point!
-Two modes to mix up the gameplay and to test your skills (Aboveground and Underground)
-Through the extensive use of randomised events, each play through is different from the last. The elevator might be ready after 5 minutes, maybe 10, you never know.
-Innovative and immersive objectives mode and assignment system allows you to play freely or try to live out the last moments of the survivors.
-7 different traps to use to your advantage against the undead enemy (lasers, incendiary, explosives, gases and more)
-Large open spaces to claustrophobic corridors to test your strengths and weaknesses
-Vast array of weapons to use including 3 different armouries throughout the map!
-Make use of the blast doors and miniguns to dispatch and slow your enemies.
-Alternate story lines to immerse you deeper in the game (the events in the underground mode occur before the above ground mode)

I'm aware that the map may become very hard after you get underground, in single player I haven't experienced it because the director treats zombie spawning differently for a single player rather than 2 or more. If you experience amazingly high amounts of zombies while underground I need to enforce that it has been my focus for a good part of half a year and right now it seems to be the best it's been, but again, i haven't been able to see the effects of the new tweaks I did with other people.
Thank you mojo for a great review!!

In regards to the difficulty, I've found that playing solo you actually have a chance, but when you join with two or more human players, the difficulty multiplies. The bots are not reliable so you have to be on your game. In regards to underground, it is extremely difficult at times; mainly cause there are so many choke points, dead ends and tight spaces and the director doesn't have as many open spaces to spawn the infected, so you quickly get overwhelmed.

The voice is actually a text to speech editor that has been boosted in amplitude and the reverbed for the echo.

I plan to do a massive update to this entire mod, maily cause I think it is [email protected]!. I mean I love the idea and it's very innovative, but in regards to mapping techniques and quality in certain areas, there is a lot that I can do; so when I've finished the hive, I'm going to overhaul this map to make it 10 times better!
File Details
View Changelog
Version 6 Complete