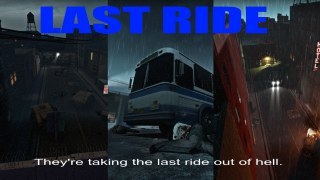 Last Ride
You are downloading as a guest.
The extended gallery contains images from all community members.
After escaping from the city in Burning Night, the helicopter of the survivors face problems during the flight and ends up crashing. Now they must cross another infested city to find an escape vehicle in the opposite side of the city. While resting in the first safe room, rain begins to fall, making their journey harder.
03/27/16
========

Fixed missing textures, fixed intro bug.

03/26/16

Give this work 5 Stars

I really loved it. First chapter is fine and that cupboard to move for better supplies is a nice touch from you side. I knew it was for some supplies and it requires some noise and a fight and it was a long fight. Chapter 2 was really long and challenging, but it was nothing for me. It got 2 panic events and the first is easier than the second. Pretty enough supplies along the 3 chapters. Played this campaign on Expert single player mode and finished in 1hr & 34min with only 1 Restart. The restart took place in second chapter by the start of the second panic event as I was surprised that I should move to turn off something and bots fell behind while the nasty smoker got me from over the tent ( you placed those specials in a unique way) Also, that charger on roof got 2 of us in a charge. It spawned there on the two times I passed from there. The second time I played second chapter all bots moved with me to the spot between tents and it was super populated with hordes, but in a way I managed to run and turn that alarm off. I stood on the far edge after the alarm spot to fight the rest of zombies, but the annoying thing was they kept coming and i was alone while all bots are DEAD. The good thing was that the spot I stood in was a god spot just like the one who commented below. It kept them all away and just waving with their hands like dancing XD I luckily got Spitter as special infected much better than smoker or jockey that would grab me. After taking out a number of dancing zombies I grabbed a defibrillator and ran to one of dead bots and fought some zombies that chased me along with a charger. It was intense worrying about restarting it all over again. Moved towards the safe room and I glanced it right here, but some zombies were around and that unlucky bot got a vomit from boomer so the way was cleared for me and the bot RIP.
----------------------------------------------------------
Chapter 3/Finale reminded me with the campaign I played just before this which was Dark Waters and I didn't notice that it was you who created the other map too XD because we went down something like a trench and fought in cemetery there ;) This was something similar to it, but this time I fight in a bus station. Was shocked that I had to fill the bus with gas as I was worried about the survival of bots and I can't do it alone XD but I did it and from first time! It was like an event inside and event to start the generator to open doors while a main event is ON. It's something unique. Zombies came in big numbers inside that building between bus the other side and on the left side where garage is found. Barrels are nicely spread and I told my buddy that I needed  some company to help fill that bus XD but had to adjust. Kept special infected locked in that factory in front of the building where we should find 3 barrels and a health kit. After I was done with all 9 barrels, I opened it and it was pretty easy for me. Those 2 barrels up there in two different sides are really lovely. The only issue there is when Nick got stuck in the factory for no reason and it is considered a navigation issue. I had to kill him and move all the way back after I was done and rescue was ready and that music started. Was afraid that hordes beat us or a tank ruins the whole try. So I moved and shot him on spot so that we could escape. Tank came twice, once by that garage on left side and incapacitated the bots and I brought it down while zombies were attacking. And the other time, it came right from behind the wall of bus spot and killed the 3 bots along with zombies and I managed to run here and there and burn that thing while shooting zombies and hardly came back to revive bots while fighting zombies and gladly specials were locked in factory at that moment. It was Really Hard for Expert Single Player, but it was fair though as no insane waves were coming for us and I wondered if we don't fill the bus on time, 3rd tank would spawn or what? Thanks for Experience and wish to play more of your fine works.
File Details
View Changelog
Version 2.2 Complete