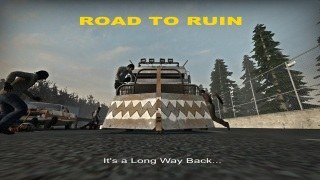 Road to Ruin
You are downloading as a guest.
The extended gallery contains images from all community members.
After escaping the swamps in Dark Waters, the survivor's truck ran out of gas. Now, stranded in a big highway, they must search for gas to escape the dangerous place they are.
08/02/16
========
Fixed buggy texture in saferoom.

07/31/16
========

Simple but fun

I finally got time to make a review on this campaign. This one is a simple campaign because map 2 is a revisited map going backward, back to the van. However, the journey is quite long & enjoyable, as long as a tank doesn't appear near the cars :D . The directions are clear but sometimes players need to walk around to find the guide arrow to jump down.
.
The only problems I found are on map 2 or finale. The first problem is the ladder where survivors have to climb down after collecting the gas. The horde keeps coming & climbing up, & someone has to cover fire from above while others are climbing down, but this won't work in Singleplayer. There's a trick for Singleplayer though, like throwing a molotov down the ladder to burn all zombies down there then climb down & take some damage while running away from the flame. Bots sometimes just jump down & die on this ladder, especially when some zombies disturb them during climbing down. The second problem happens when survivors need to climb up on the other side. I don't know if it's just me or not, but on my several tries, there was a fake wall blocking the way. On my first play, I got confused & though that probably there was another route, but I didn't find...until I just jumped for fun on the stairs & miraculously passed through the fake wall to the ladder behind it.
.
Other than those minor problems, this campaign is fun, especially on finale. It's really fun to keep running & shooting while horde & special infected keep coming. Thankfully, the supplies are enough so anytime the ammo is running out, players can pick ammo or swap weapons on some places during running back to the van. Btw, just a little suggestion for the author, but I think it would be better if the other chapters are linked below the description using "linked contents". That way, other players can also enjoy the adventures from the "Burning Night" chapter to "Infection Overdrive" one.
File Details
View Changelog
Version 1.1 Complete