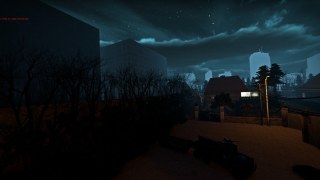 Venissia
You are downloading as a guest.
The extended gallery contains images from all community members.
A short and difficult campaign. Full vanilla, no custom textures, models or props.
10/04/19
========

All maps :

- Nav is better than before

Review

Not a bad'un, quite enjoyable. Maybe some more guns or supplies on chapter 1 would've been nice, since there are a lot of boss zombies to deal with and the event at the end. Speaking of the event on chapter 1, the message says to shoot the gas cans, but you don't actually need to you can just enter the safe room and complete the level, so a bit misleading I think, unless something special happens. On chapter 2, the train can be stopped by common infected sometimes which is a bit odd, haha, maybe do something about that. Starting on chapter 3, and then 4 te finale, saferoom supplies would spawn a bit wonky, like an ammo pile and medkits suspended in the air, minor minor nitpick, but I'll mention it anyways :P. The finale can be loong if you don't look hardenough, be very careful or you may miss a switch required to progress, you can barely make them out as they're highlighted (which is appreciated.) Overall not a terrible campaign, a bit rough like the description says, as I've said a bit more supplies on chapter 1 wouldn't've hurt, direction was fine overall, usually the infected would show the way so you don't end up getting lost forever. The finale is quite challenging as well, and long, so be warned peeps! Oh, and one more thing on the finale! Bot struggle getting up the ladder, closest to the chopper, I died to a hunter because they couldn't manage to climb up fully.

ladder stuck bug is something that appear ever since the TLS update... wait it was August.
But yeah survivors tend to stuck if there is no straight walkable path after the ladder, like it was in The Parish. Though bots never stuck in that final ladder in the beginning of The Parish until TLS update. Thankfully a mod - Left 4 Bots, allow to warp bots in place among other massive improvements.
File Details
View Changelog
Version 4.0 Complete