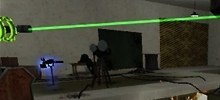 Left4Dust
You are downloading as a guest.
The extended gallery contains images from all community members.
 Left4Dust  YES hammer broke on me so im done This campaign has lots of secrets and tricks..not an easy walk though campaign at all but if you take your time you'll be just fine so... relax, have fun, and enjoy. Its got HINT and STORY LINE only if you have your GAME INSTRUCTOR turned on and is recommended that you do so.. For those who need help with any puzzles  I'll be more then happy to give hints..but sorry the hints will be removed from remarks below the next

 day..I want to give gamers the challenge.There's many different paths to take. Some easy and fun Some hard deadly But always lots of clues.Just need a sharp eye and most importantly is to... Have Fun ....      *Tags
Campaign with traps & puzzles not for beginners

Well, as I said on the title (& the author also mentioned similar things), this campaign is too difficult for beginners, especially when it comes to traps & puzzles. The traps are without any hints, like for example, the falling roof traps in map 2, & most traps in map 4. The puzzles also have less to no hint, especially puzzles in map 4. & special for map 4, it's a "Map of No Return" which means that if the puzzles are not done in order & the building is already crumbled after using elevator, there's no way to go back to the upper floor. Puzzle in finale about numbers is also without a hint, & it could generate a wide propeller trap that instantly incapacitates survivor when certain numbers are pressed. What's worse is the bot navigation. It's really not recommended to play with bots, because they'll most likely die very early due to bad navigation & traps.

In short, this campaign is only for those who want challenges to avoid traps & solve puzzles with less to no hint. & I think this campaign is harder than "Powerstation", "Curse of Lazar Castle", & "Sector 74" campaigns. "Powerstation" is similar in terms of traps without hint but there's no difficult puzzle, while "Curse of Lazar Castle" has many traps & puzzles but there are enough hints to avoid all traps (if players carefully explore each map to look for hints, they can clear this campaign without falling into any traps). & for "Sector 74", although it has traps, there are hints about how to avoid. So, this "Left 4 Dust" campaign is on higher difficulty than those other campaigns I mentioned, though I think it would be less difficult than "hehe". series as traps in "hehe" series are on another level. So, play this only when there are other players available.
File Details
left4dust_v1.3.vpk
(52.9 MB)
View Changelog
Version 3.0 Complete